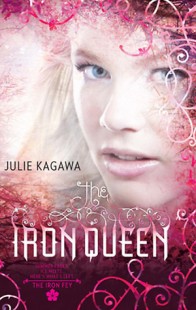 The Iron Queen
(
The Iron Fey #3
)
by
Julie Kagawa
Purchase on:
Amazon
, 
iBooks
Add to:
Goodreads
Synopsis:

My name is Meghan Chase.

I thought it was over. That my time with the fey, the impossible choices I had to make, the sacrifices of those I loved, was behind me. But a storm is approaching, an army of Iron fey that will drag me back, kicking and screaming. Drag me away from the banished prince who's sworn to stand by my side. Drag me into the core of conflict so powerful, I'm not sure anyone can survive it.

This time, there will be no turning back.
Review:
I laughed, I cried and I even clapped out loud and I'm not a clapper while reading, or so I thought. I loved this book! I can't believe how much this series just keeps getting better and better. The love and history between the characters, the action that makes you read faster and faster, the new characters we are introduced to that integrate seamlessly into the story-line, and the development of the story all make for a magical book.
Summer and Winter were supposed to be enemies. We were not supposed to cooperate, we were not supposed to go on quests together and, most important, we were not supposed to fall in love.
Meghan and Ash have been exiled from the Nevernever. They chose love over their loyalty to their courts and because of this they have been banished to the mortal realm. While they are returning to Meghan's home, to see her family, the Iron fae intervene. They try to capture Meghan to bring her back to the false king of the Iron Kingdom. Meghan realizes she can't sacrifice her family's safety and that she will never truly be free until she faces the false Iron king. She becomes resonate that she needs to destroy the false king so she can finally start to live her life. The journey they embark on is even more eventful then their other journeys in the past. The faery fates lay in Meghan's hands and regardless of what happens nothing will ever be the same again.
He sighed, framing my face with his hands. "My life…everything I am…belongs to you."
It's hard to imagine I know BUT Ash is even more magnificent in this book. Meghan has fully melted his ice facade and we get to see ALL of him. He's sarcastic, heartfelt, protective, loyal, trust worthy and he knows in his heart that his world and future are Meghan. Ash's heart still bleeds from past events but with the help of Meghan's love he is trying to overcome it.
Despite everything I felt and the crazy emotions churning inside me, it all came back to him.
Meghan grows up so much in this book. She realizes what her duties are and she gives her all and then some. She speaks her mind and doesn't allow anyone, no matter their rank, to walk over herself or the ones she loves. She is strong, determined, and a force to be reckoned with. She is the epitome of who you want to read about if you love a take charge, kick-butt female lead!
Gods forgive me if I was being selfish, but I wanted nothing more than to stay with him forever.
One of things that I love about this series is that each character we know and are introduced to is so unique. Their personalities, their words and their actions are SO each their own. Each one stands out by themselves and each one ads so much to the book. I thoroughly enjoyed the constant reappearance of Grim and I enjoyed two newcomers that really stood out, Razor and Glitch.
I understood. This was my fate, my destiny. I knew what had to be done.
I always know that I've fallen for a book when I think about the characters long after the book is over. I'm shocked that this series will now be lumped in with my favorite books especially since the first book was so mundane. Now on to finding out what happens next!
Related Posts