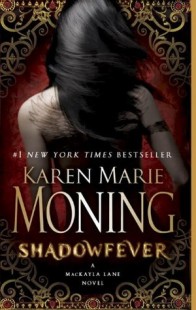 Shadowfever
(
Fever #5
)
by
Karen Marie Moning
Purchase on:
Amazon
, 
iBooks
, 
Book Depository
Add to:
Goodreads
Synopsis:

MacKayla Lane was just a child when she and her sister, Alina, were given up for adoption and banished from Ireland forever.

Twenty years later, Alina is dead and Mac has returned to the country that expelled them to hunt her sister's murderer. But after discovering that she descends from a bloodline both gifted and cursed, Mac is plunged into a secret history: an ancient conflict between humans and immortals who have lived concealed among us for thousands of years.

What follows is a shocking chain of events with devastating consequences, and now Mac struggles to cope with grief while continuing her mission to acquire and control the Sinsar Dubh—a book of dark, forbidden magic scribed by the mythical Unseelie King, containing the power to create and destroy worlds.

In an epic battle between humans and Fae, the hunter becomes the hunted when the Sinsar Dubh turns on Mac and begins mowing a deadly path through those she loves.
Who can she turn to? Who can she trust? Who is the woman haunting her dreams? More important, who is Mac herself and what is the destiny she glimpses in the black and crimson designs of an ancient tarot card?

From the luxury of the Lord Master's penthouse to the sordid depths of an Unseelie nightclub, from the erotic bed of her lover to the terrifying bed of the Unseelie King, Mac's journey will force her to face the truth of her exile, and to make a choice that will either save the world . . . or destroy it.
Review:
*Spoilers for the previous books in the series*
Shadowfever was rich, imaginative and perfectly wove characters and questions, from the four previous books, throughout.  At nearly 700 pages, this book was excruciatingly painful to put down!  The trials they faced are always taken to that next level, leaving you on the edge of your seat. The mystery completely inundates your senses.  And the Mac that unfolds in front of our eyes is horrifying and enticing all at the same time.  How could we ever expect her to be the same after what she did?  We can't.
Every time I think I'm getting wiser, more in control of my actions, I go slamming into a situation that makes me excruciatingly aware that all I've succeeded in doing is swapping one set of delusions for a more elaborate, attractive set of delusions – that's me, the Queen of Self-Deception.
She did it.  She killed Barrons.  Her protector.  The one who would never let her die.  And she has no one to blame but herself.  Mac has to leave Barrons' body.  The GM is on the hunt for her and she has to figure out how to get back to her world and find the Sinsar Dubh.  But along the way, she keeps coming across situations, places and even people that she knows.  Yet as far as she can recall, she's never been there or met them in the past.  How is that possible?  And as Barron once asked, who is she really?
Call me anything you like-I sleep fine at night.  But you will look at me when you say it.  Or I'll get so far in your face you'll be seeing me with your eyes closed.  You'll be seeing me in your nightmares.  I'll scorch myself on the backs of your eyelids.  Get off my back and stay off it.  I'm not the woman I used to be.  If you want a war with me, you'll get one.  Just try me.  Give me an excuse to go play in that dark place inside my head.
Mac is cold, deadly and she has a plan.  Nothing and no one is going to get in her way.  The risks she takes and the games she plays are phenomenal.  She was fascinating and so much fun to watch!  And then when something humongous happens….Oh. My. Gosh!  I'm going to put the next section in a spoiler, so please don't peek if you haven't read Shadowfever yet, because it's a HUGE spoiler!!
With Barrons, you aren't sure if you're going to get fucked or turned inside out and left a new, unrecognizable person, adrift with no moorings, on a sea with no bottom and no rules.
I was never immune to him.  There were merely degrees of denial.
View Spoiler »
When Barrons comes back? Eeps!!!!! I was thrilled, I was elated, I was so thankful that one of my crazy guesses panned out! The two of them working together as a team was captivating. The chemistry between the two of them was hot! And when they finally had sex, swoon! I love Mac and Barrons together and I can't wait to read more about them in the future books! « Hide Spoiler
There was something very cold inside of me.  Always had been.  I wanted to welcome it now.  Let it chill my blood and frost my emotions until there was nothing left in me that was haunted because there was nothing left of me.
Betrayals, lies, secrets and an unstoppable amount of action made for an epic book!  AND I am beyond overjoyed that the majority of my questions got answered!  Each time I reached another page that checked off one of my previous questions, I was elated.  I was not going to be left in the dark!  I still can not believe how much I enjoyed this series, how much I fell for the characters and how my mind is already working on all of the possibilities of what can happen in the future books.  I will definitely be finishing this series, but most likely when the remaining books are all released because her cliffhangers are amazing and torturous.   For now, Shadowfever leaves you at a place where you can step away and not be struggling to breathe.  It's a perfect place to stop and take a break before you continue on with the series. I am so happy that my lovely friend got me addicted to this series and I can't wait to read the remaining books in the future!
Related Posts