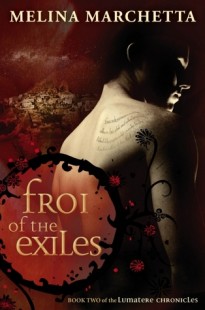 Froi of the Exile
(
Lumatere Chronicles #2
)
by
Melina Marchetta
Purchase on:
Amazon
, 
iBooks
, 
Book Depository
Add to:
Goodreads
Synopsis:

Blood sings to blood, Froi . . .
Those born last will make the first . . .
For Charyn will be barren no more.

Three years after the curse on Lumatere was lifted, Froi has found his home... Or so he believes...

Fiercely loyal to the Queen and Finnikin, Froi has been trained roughly and lovingly by the Guard sworn to protect the royal family, and has learned to control his quick temper. But when he is sent on a secretive mission to the kingdom of Charyn, nothing could have prepared him for what he finds. Here he encounters a damaged people who are not who they seem, and must unravel both the dark bonds of kinship and the mysteries of a half-mad Princess.

And in this barren and mysterious place, he will discover that there is a song sleeping in his blood, and though Froi would rather not, the time has come to listen.
As you might know, I'm a teacher from 3rd to 5th grade. Of course I love my job but let's face it : sometimes the gremlins are exhausting.
To survive, I learnt quickly a few tips :
– Everything is better in color
– Sleep full-time nights – or if you don't, pretend, that is to say, smile.
– Identify the giggles words and defuse the crisis right away : yes, there is sex in sexism, hahaha, now can we talk about it? Now, you're a teacher but also a person, so try to never forget it and allow you to laugh sometimes. Except at other times. No, we don't eat acorns. Squirrels eat acorns. Pigs eat acorns. You're a ten years old boy dammit ← yeah, because you never swear in public.
– Protect your voice : no need to yell. Never.
– Tool worksheets are your friends, because surprisingly, you're not a parrot.
Target : To be able to read this book without crying.
✔ Never underestimate Marchetta's ability to blow your mind : you need to remember that nothing can be taken for granted, neither the characters' reactions because they're dynamic and evolve, nor the curse of the story, because you can't even talk about twists when that's the whole story which is unpredictable.
"Most days, he feared that a monster of great baseness lived inside him, fighting to set itself free. Killing the traitors of Lumatere for Isaboe made sense. But killing also fed the monster."
✔ Be prepared to fall in love with all the characters, even the villains : indeed in Froi of the Exile none of the characters is annoyingly perfect, and that's fucking great. Moreover, even the word villain seems totally misplaced, because as in life, things are always more complicated than they appeared.
✘ Froi spends his time fighting between his violent instant-jerk reactions and his self-imposed limitations, and became one of my favorite male-lead of all-time for this exact reason. What could be more interesting than a man who's always seeking his place in the world and who tries to refrain himself without never forgetting who he is? What I adored in his personality is the fact that he's able to see behind the scenes and never hastily judges someone. No, Froi thinks, analyses – and above all that, loves and hates with such passion, craves for some attention – that tortured boy who's trying so hard to be worthy captured my heart and broke it while he was at it.
Do you know what's Marchetta's magic is? She makes me care. So much. Everybody was dismissing Froi, and oh, how I wanted to tear them apart, these cold-hearted bastards! All of them, even those I liked. Even the brothers. All of them. Anything rather than bear his heart-wrenching loneliness a second longer.
✘Quintana fascinated me, but let's face it, the girl is insane. Now, if we scratch the surface, as Froi did did I say how much he's awesome?, we discover one of the most captivating character I've meet for a long time. And if somebody calls her a vessel again I think I'm going to lose it. Fuck off, you jerks.
✘ No need to remember how much Finnikin, Isaboe, Trevanion and Beatriss are multi-layered. No perfection here, just life.
"It's the same with her. Imagine who she would be if we unleashed her onto the world. I think she would rip the breath from all of us."
✔ Forget your social life and be prepared to travel, because you're not really in your living-room, nah, you're in Charyn. Indeed if you're like me, you'll probably end completely drawn in this world, enchanted by Marchetta's beautiful words and frowning awkwardly when someone, let's say, your boyfriend, ask you when and what you want to eat.
"He says that the gods have forsaken Charyn", Froi said.
Arjuro gave a short laugh of disbelief. "The gods have not forsaken Charyn. The gods love Charyn. Where else can they shit, if not Charyn? It's the purpose of this kingdom. To be the place where the gods shit."
☛ Crisis management : You answered a phone call. You fool. Okay, fortunately I'm here to help you. So, here's what to do : you hmm hmm a few time, and then you say (intonation is the most important, you play for your life here) : Oh! There's *insert random name of BF/cat/dog/son/daughter/friend* I need to go! And then you hang up quickly. Crisis aborted. Come back to Froi. You're welcome.
"If he was grateful for anything, it was that most times, he did not see their fear. But here in the Citavita, fear made people beg. Fear was piss running down the legs of those who once stood pompus and proud. Fear was a blood-curdling cry that rang through one's ears for days to come."
✔ Don't breath. Don't hold your breath though. Or you count. Oh, yes, there's a lot of counting in this book. So let's try this : if your eyes start to be filled with tears, count. Hmmm. I don't know. Try to cope with all the emotions you'll feel, fear, sorrow, hope, sadness, loneliness – love. A love so fierce. Go for a run, share a hug, call your mum. I don't really know.
Oh. My. I think I lied to you : there's no such thing as a potion to avoid crying with this book. Sorry about that.
"And suddenly, in all the absurdity, Froi forgot the orders from his queen. Forgot everything he had been told was right or wrong. Forgot any type of reason."
Related Posts