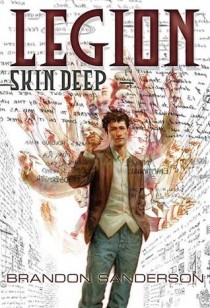 Skin Deep
(
Legion #2
)
by
Brandon Sanderson
Purchase on:
Amazon
, 
iBooks
, 
Book Depository
Add to:
Goodreads
Synopsis:

Stephen Leeds, AKA "Legion," is a man whose unique mental condition allows him to generate a multitude of personae: hallucinatory entities with a wide variety of personal characteristics and a vast array of highly specialized skills. As the new story begins, Leeds and his "aspects" are hired by I3 (Innovative Information Incorporated) to recover a corpse stolen from the local morgue. But there's a catch. The corpse is that of a pioneer in the field of experimental biotechnology, a man whose work concerned the use of the human body as a massive storage device. He may have embedded something in the cells of his now dead body. And that something might be dangerous…
Why can I say with with absolute confidence that Skin Deep is an highly satisfying SF thriller?
Let's start a quick investigation…

Evidence #1 : ♟The plot is brilliant.
"Yeah, great, whatever," J.C. said.
" Emotions and metaphors and stuff. Look, we've got a problem."
Captivating and fast-paced, this thriller kept me enthralled from the beginning to the end. I didn't guess who the bad guys were, well, to sum-up, I hadn't any clue of anything before Stephen.

What have we got here?

– Some computers genetic engineers who drove some weird experiments and lose a corpse – and we follow Stephen and his aspects while they investigate about it.
"Freaks," J.C. said, shifting uncomfortably.
" This is going to be about zombies. I'm calling it now."
Noooo. That's more of a data encoding process you know? Completely harmless, I'm telling you.
"Speak dumb person, please," J.C. said."
Evidence #2 : ✎ The writing is compelling, precise without never being heavy, making our reading experience pretty addictive.
"It was an unintended result that is perfectly managable, Laramie said, " and only dangerous if used maligny. And why would anyone want to do that?"
We all stared at him for a moment.
"Let's shoot him," J.C. said."
Evidence #3 : ✌ The characterization is So. Damn. Good.
That's crazy when we think about it, but these hallucinations are more flesh-out than many characters we find in a lot of books. I loved every single of them, and especially J.C who appears to be completely delusional but whose comments and reactions were so enjoyable I couldn't help but root for him. And pat his head sometimes. Brave J.C.
Icing on the cake, the fact that this book deals with insanity makes the reader properly think about what being crazy really is.

At what point does the society decide that we're crazy?

When we have hallucinations?
When we provide them rooms to live in?
When the differences between you and them are becoming increasingly blurred?
I'll let Stephen gives the speech here :
"The longer I've lived, the more I've realized everyone is neurotic in their own individual way. I have control of my psychoses. How about you?"
Conclusion : That was quite impressive! There's better be another book someday.
You can find the fun picture here.
Related Posts