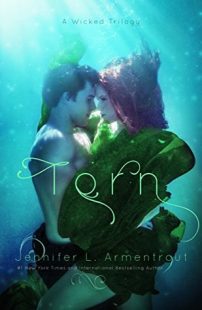 Torn
(
A Wicked Trilogy #2
)
by
Jennifer L. Armentrout
Purchase on:
Amazon
, 
iBooks
Add to:
Goodreads
Synopsis:

Torn between duty and survival, nothing can be the same.

Everything Ivy Morgan thought she knew has been turned on its head. After being betrayed and then nearly killed by the Prince of the Fae, she's left bruised and devastated—and with an earth-shattering secret that she must keep at all costs. And if the Order finds out her secret, they'll kill her.

Then there's Ren Owens, the sexy, tattooed Elite member of the Order who has been sharing Ivy's bed and claiming her heart. Their chemistry is smoking hot, but Ivy knows that Ren has always valued his duty to the Order above all else—he could never touch her if he knew the truth. That is, if he let her live at all. Yet how can she live with herself if she lies to him?

But as the Fae Prince begins to close in, intent on permanently opening the gates to the Otherworld, Ivy is running out of options. If she doesn't figure out who she can trust—and fast—it's not only her heart that will be torn apart, but civilization itself.
Review:

***Spoilers for Wicked.  If you haven't read Wicked yet, you can read my review here***
"I don't want to die."
Torn was an emotional ride that was filled with uncertainty and characters I absolutely loved!  It was everything I was hoping the second book would be and much, much more!  I was left on such a high and I truly can't wait for the release of the next book to see what happens with characters who have easily become favorites for me.  Each and every one of them has embedded themselves in my heart.  Ivy is someone who makes me want to be her best friend, Ren makes me want to steal him so he could do wicked things to me and I'd love to carry Tink around in my purse all day so I could hear all of his crazy antics.   And I can't wait to see where their journey is going to go from here!
The hate building inside me burned brighter than a thousand suns, but even with that rage, I always, always felt cold. With each passing day, it was like I was filling up on the inside with ice and shadows. The only time I didn't feel this way was when I slept.
I felt nothing then.
The horror, uncertainty and utter shock that Ivy felt upon learning that she was the halfling crippled me.  I knew that she made the most sense in the back of my mind, but I was truly hoping that Val would be the halfling.  Even if that wasn't very logical.  I just couldn't believe that after she finally opened herself up to friendship and possibly love with Ren, that she was slapped right in the face.  Because the man she had fallen for had been sent there to kill her.
I should've never gotten close to him.
While Ivy vacillated in telling Ren the truth about what she was, I completely understood her internal struggle.  If she told him the truth, what would he do?  Turn her in, be the one to kill her or would he just leave since history was repeating itself?  It was such a hard decision, and while I started to struggle with her keeping secrets and the truth from Ren, that issue quickly disappeared in my eyes.  Why?  Because Torn took a dive into a dangerous, twisted area that quickly had me rooting for Ivy and being her biggest fan.
"You can fight this all you want, but I know the game and the rules," he said , and my stomach roiled as his icy breath coasted over my cheek. "I know how this ends, little bird. And trust me, you will be consenting sooner than you realize." – The Prince

Speaking of twisted, can I say how much I hate the Prince?  Well, hmm, actually that's not entirely true. *hides face while I make this confession*  Yes he's creepy and wants to impregnate Ivy so the gates from the Otherworld remain open so he can take over the mortal world.  But at times I found him amusing.  And I truly don't know what that says about me at all because the prince was sick and twisted.  You see, he had this weird sense of humor and would say and do things that made him appear in a different light.  I know that it's probably because he's a psychopath and I know without a shadow of doubt not to trust him but his personality had these blue moon moments.  In those moments he was entertaining.  But then he would do stuff that quickly had him nose diving into the oh-I-hope-you-die category.  I loved that the Prince was a complex character that made me second guess my hatred for him but then had me spiraling back into the rallying behind his death.  On a side note, I hope Breena dies too!!!  I know you'll agree with me!
As I exited the bedroom, I hit the switch and turned on the fan, grinning when he shrieked.
"That was screwed up!" he shouted as he was flung across the room. (Tink & Ivy)
Thank goodness Ivy had Tink in her life though, because he was a constant.  No matter how ridiculous he could be.  And trust me, he definitely strays from the bounds of being normal lol.  But I loved that Ivy had a male best friend who was from the Otherworld.  There's so, so, so much I want to say about Tink.  But I can't because of huge spoilers.  But just know that while I guessed for one thing to be true, the other one I wasn't even close.   At all.  Let's just say that I stared at the page open-mouthed while trying not to gasp.  Or maybe laugh.  I can't tell you which.  Yeah.  I desperately need someone to talk to about that!!  But besides loving Tink interacting with Ivy, I freaking adored Tink and Ren's interactions because those moments were always explosive, hilarious and over the top.
My fingers curled around the top of my dress as I stared blankly at the tile floor. I didn't know who I was anymore. My breath caught in my chest.
How did I not talk about Ren yet?!  After reading Wicked and now Torn, I truly believe that wicked is the perfect word for describing Ren.  He is constantly exploding sexuality and I just wanted to crawl into the book and steal him for myself.  His looks, his touches, his words everything he does seduces me, um I mean Ivy.  And while my heart did break for him as the story unfolded, he proved himself to be the badass sexy fighter that I have easily come to love.
I'm gonna kill her. My hands trembled as I let the bra slip to the floor. I'm gonna kill her. I kept repeating those words as I slipped off my undies.
So now I patiently wait for the next book.  The ending of Torn is much, much easier to handle then Wicked, who's ending left me feeling like my heart had been ripped out of my chest.  Although I do love that feeling, since I'm glutton for feeling deep emotions in a book.  But I can't wait to read more about my favorite characters!  Come on 2017!!
*Quotes were taken from ARC*
*ARC kindly provided by Jennifer L. Armentrout via Inkslinger PR in exchange for an honest review*
  Excerpt:
[scroll-box]I lifted my right hand, reaching for my iron stake out of instinct, even though I knew it would do no good against the prince.
"You shouldn't do that." His voice was deep with what reminded me of an English accent. "I know you want to, but it would be very, very unwise of you, Ivy."
My hand twitched.
Creepy Prince smiled slightly. "Your friend has been very helpful."
That got my hackles up. I slid my sunglasses onto my forehead and forced my tone to stay calm and level. "I'm sure she has. Speaking of Val, happen to know where I can find her?"
His lips curled in a semblance of a smile as he stepped closer. The prince was tall, taller than Ren, who was pushing six foot two. My entire back stiffened as I forced myself to hold my ground, even though every instinct demanded that I run and run super fast, because he had almost killed me once before. Correction. He would have definitely killed me if he hadn't realized what I was and had, I guessed, healed me.
"I've been waiting for you," he said, instead of answering my question, his pale blue eyes fixed on mine.
My hand curled into a useless fist. "That is extremely creepy to hear."
That cold smile returned. "Why don't we talk? There are seats across the way."
"Yeah, that's not going to happen."
The slow smile increased but never reached his eyes. "Oh, I know it is."
Fine hairs rose on my arms.
"What exactly can you do right now?" he said in the same coldly polite voice. "Refuse me?" Creepy Prince laughed, and it wasn't a bad sound. Again, it was something that was just cold, as if he were mimicking what a human would do. "You can't."
"I can." My palm itched to grab the thorn stake secured under my pant leg, but I held still. I might be reckless, but I wasn't stupid.
"Really? I will have to beg to differ on that. You see, humans surround us. So many of them, and I have an extraordinary appetite." His eyes appeared to glimmer as his gaze slithered from the top of my curly head down to my toes. "A rather impressive appetite for many, many things."
"Okay. First off, ew." My lip curled. "Secondly, I don't want to hear about any of your appetites."
One dark eyebrow rose. "Oh, but you should know that I could kill twenty of these humans in less than five seconds and feed on the rest, leaving them to believe that it was this little red-headed girl who murdered these innocent people." His voice dropped even lower as he leaned in and icy air brushed my cheek. "You deny me this, those lives will be on your hands, little bird."
Anger flushed hotly as my eyes met his. There wasn't a single part of me that doubted anything he said. He had me. God, I hated to admit it, but he had me.[/scroll-box]
Things are about to get Wicked in New Orleans…
Don't miss the first title in the series, WICKED!

 About Jennifer L. Armentrout:
 #1 New York Times and #1 International Bestselling author Jennifer lives in Martinsburg, West Virginia. All the rumors you've heard about her state aren't true. When she's not hard at work writing, she spends her time reading, watching really bad zombie movies, pretending to write, and hanging out with her husband and her Jack Russell Loki.

Her dreams of becoming an author started in algebra class, where she spent most of her time writing short stories….which explains her dismal grades in math. Jennifer writes young adult paranormal, science fiction, fantasy, and contemporary romance. She is published with Spencer Hill Press, Entangled Teen and Brazen, Disney/Hyperion and Harlequin Teen. Her book Obsidian has been optioned for a major motion picture and her Covenant Series has been optioned for TV. Her young adult romantic suspense novel DON'T LOOK BACK was a 2014 nominated Best in Young Adult Fiction by YALSA.

She also writes Adult and New Adult contemporary and paranormal romance under the name J. Lynn. She is published by Entangled Brazen and HarperCollins.
Reading Order & Links:
Amazon (click on covers), iBooks (click on titles) & Book Depository (click on book #)

Wicked #1
Reviews:
Jen

Torn #2
Reviews:
Jen

Brave #3
Reviews:

Save
Save
Save
Save
Save
Save
Save
Save
Save
Save
Save
Save
Save
Save
Related Posts
I loved this book! I loved these characters! Oh my gosh, I am so excited to see where this series is going to go! And in case you didn't know, Torn is out today woohoo! I'm so grateful to have read an early copy because Torn was a solid 5 Stars! So check out my 5 Star Review below, read an excerpt that's a scene between Ivy and someone I loathe (well for 95% of the time because clearly I have issues). I'd love to hear if you have already read the first book or are planning to read this series because I am in desperate need to talk about what happened! WOW, this book was soooo much fun!