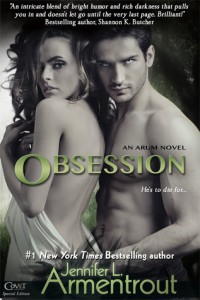 Obsession
(
Lux #4.5
)
by
Jennifer L. Armentrout
Purchase on:
Amazon
, 
iBooks
Add to:
Goodreads
The grass is always greener on the other side, right? Well, not that it was any better than the Luxen side, but I still thoroughly enjoyed Jen's newest addition to the Luxen world of West Virginia. As I have stated multiple times, I am an avid fan of Jen's writing, and at the moment I am up shit creek without a paddle, because all her series are stuck on cliffhangers until the next installments come out….kill me now.
So we enter Obsession with the notion that we are going to see the bad boy side of things, and while it definitely delivered, we also saw a side to Hunter that was sweet and vulnerable. I never once compared Hunter to the Arum we all know from the Lux series. He was a completely different person *ahem* alien than what we know the Arum to be. I didn't know whether I could adjust to the other side of the spectrum, because, let's face it, while the Luxen bash the Arum, the Arum bash the Luxen. I did ultimately have a hard time with this, because it has been instilled in us to hate the shadow guys, but I did my best to be impartial in these areas where people were pointing fingers, otherwise the story would be hard to enjoy.
And yes…oh yes…we got to see our favorite "good" badboy Luxen. It was minuscule, so tiny, but it was enough to make me grin like the Chesire cat in Alice in Wonderland. Jen weaved the stories together so that this book was after Opal, so you can only imagine who our friendly Luxen boy was visiting and who it was about. My heart constricted all over again..just saying…but I will refrain from spoiling…I am strong.
Hunter and Serena had an adorable relationship and it was utterly compelling. I couldn't put the book down and devoured each and every page. It was a dark, erotic read that I had never seen from Jen before, and I have to say I liked it. Who ever knows if an author so widely known for her YA novels could excel at a steamy read, but how I ever wondered is beyond me..even her YA novels are steamy and exciting. So this leaves me at my final point. Jen is an awesome writer, and none of her books could be labeled badly. I can't wait until her next masterpiece comes out in July, and until then, this little tidbit better sate me.
****
People who have not read the Lux series are probably horribly confused by this review, but I figure if you haven't read the Lux series, why would you be looking at this one anyway? Where's the fun if you don't already know what's going on a little? 🙂
Related Posts