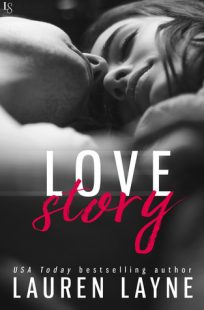 Love Story
(
Love Unexpectedly #3
)
by
Lauren Layne
Purchase on:
Amazon
, 
iBooks
Add to:
Goodreads
Synopsis:

When Lucy Hawkins receives a job offer in San Francisco, she can't wait to spread her wings and leave her small Virginia hometown behind. Her close-knit family supports her as best they can, by handing over the keys to a station wagon that's seen better days. The catch? The cross-country trip comes with a traveling companion: her older brother's best friend, aka the guy who took Lucy's virginity hours before breaking her heart.

After spending the past four years and every last dime caring for his sick father, Reece Sullivan will do just about anything to break free of the painful memories—even if it means a two-week road trip with the one girl who's ever made it past his carefully guarded exterior. But after long days of bickering in the car turn into steamy nights in secluded motel rooms, Reece learns that, when it comes to Lucy, their story is far from over. And this time, they just might have a shot at a happy ending.
Review:

I quickly devoured Love Story in one sitting, and absolutely adored Lucy Hawkins and Reece Sullivan.  Their friendship was volatile, hot and filled with history that we got to witness through flashbacks.  It was all centered around a road trip which made for a cute, fun read, that left me feeling all warm and fuzzy inside when I finished that last page.
He laughs, and my heart hurts at the flood of memories. Of how we used to talk so easily, how we used to laugh so much . . .
Lucy and Reece have known each other almost their whole lives, since Reece is Lucy's brother's best friend.  After his mother died, when he was a little boy, he became an even bigger part of Lucy's world.  Her family took him in, to a certain extent.  But from the beginning, Lucy couldn't help fall for Reece.  Even if she knew he only saw her as his best friend's little sister.  They were the truest of friends, until they pushed their relationship past the friendship boundary.  And from that point on, they barely spoke to each other.
"Not at all," I say sweetly. "See, I just watched the way you attempted to juggle multiple girlfriends and failed, and then did the exact opposite."
He glances at me then, a mocking smile on his face. "Oh, sweetheart. When did I ever claim you as my girlfriend?"
I suck in a quick breath, because it's one of the more hurtful things he can say— dismissing that summer as though it were nothing.
Years later, they're both headed to California for new jobs, and they end up getting stuck together for a road trip.  A two-week road trip.  Oh this made me so giddy!  Because from just those first few minutes being together in the car, I couldn't stop smiling.  Sexual tension and friendship simmered and exploded between the two of them.  So emotions definitely flew high, and it made for an exciting trip that was filled with tears, jealousy, anger, and lots of desire!
I glance down at my towel, considering throwing some clothes on first, but then I shrug. It's just Reece.
My inner skank rolls her eyes. There's never been anything just Reece about what's between us.
A fact I'm reminded of when I open the door and his gaze rakes over me.
My favorite thing about this story was definitely the characters.  They were the reasons I read this book in one sitting!  First off, Reece.  I love tortured men, and Reece played the part perfectly.  He was highly jaded from his past, since everyone he loved except Lucy's family left him in one way or another.  Yet he seems to harbors so much anger and hatred towards Lucy.  And I was dumbstruck why.  Things she would say or do would set him off so easily, he was so explosive towards her.  Which felt ironic to me, since it was his fault their relationship blew up in a fiery inferno.  So Reece was a fun mystery to unravel!  And his moments of tenderness that alternated with want towards Lucy made me easily fall for him.
When she held out her small hand expectantly for the card, he took a deep breath and handed it over, meeting her eyes. "Thank you. For staying with me."
Lucy blinked , looking a little confused, as though it was the most obvious thing in the world that she'd spend an afternoon with a crybaby.
Then she gave him a small smile, looking a little shy for the first time since going to him, as though she'd just realized something. "I'll never leave if you don't want me to."
I liked Lucy from the get go.  She was driven and knew exactly what she wanted in life.  Whether it was her future job or Reece.  But what made me really connect to her were the flashbacks.  I loved watching their friendship unfold right from the start!  BUT the flashbacks didn't feel seamless to me.  Each and every time I desperately wanted to stay in the present, even though I loved the moments the flashbacks showed.  I just wish they would have fit in a little differently to the story-line.
I blow out a breath. "Thanks."
"For?"
I pluck at the hotel comforter. "For yesterday. For coming after me and holding me, even though I know you hate me."
I hold my breath, waiting for him to confirm that he doesn't hate me. Which is stupid. He has no reason to hate me. He's the one who ruined things.
I hold my breath anyway. Deny it. Say you miss me like I miss you.
There's a rustling noise, then the creak of a crappy couch. "Night, Lucy."
So Love Story was an enjoyable, quick read that I easily devoured.  While I guessed how a few things turned out, it didn't take away from how much fun their story was.  And just so you know, each book in this series is a standalone and the characters don't interact with one another from book to book.  Except they did listen to a Jenny Dawson song on the radio woohoo, which was a shout out to Good Girl.  If you adore road trips and hate to love stories, then there's a good chance you'll like Love Story too!
PS The nicknames were kinda different…. Spock, Horny ummm okay lol.
*ARC kindly provided by Random House Publishing Group – Loveswept via Netgalley in exchange for an honest review*
About Lauren Layne:
Lauren Layne is the New York Times bestselling author of over a dozen romantic comedies.
A former e-commerce and web marketing manager from Seattle, Lauren relocated to New York City in 2011 to pursue a full-time writing career.
She lives in midtown Manhattan with her high-school sweetheart, where she writes smart romantic comedies with just enough sexy-times to make your mother blush. In LL's ideal world, every stiletto-wearing, Kate Spade wielding woman would carry a Kindle stocked with Lauren Layne books.
Save
Save
Save
Save
Save
Save
Save
Related Posts
I'm so happy to be on the Love Story Tour because this book was beyond adorable! Check out my 4 Star Review below and enter the fabulous giveaway! Enjoy!