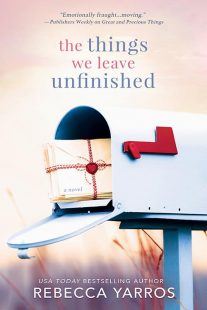 The Things We Leave Unfinished
by
Rebecca Yarros
Purchase on:
Amazon
, 
iBooks
Add to:
Goodreads
Synopsis:

Told in alternating timelines, THE THINGS WE LEAVE UNFINISHED examines the risks we take for love, the scars too deep to heal, and the endings we can't bring ourselves to see coming.

Twenty-eight-year-old Georgia Stanton has to start over after she gave up almost everything in a brutal divorce―the New York house, the friends, and her pride. Now back home at her late great-grandmother's estate in Colorado, she finds herself face-to-face with Noah Harrison, the bestselling author of a million books where the cover is always people nearly kissing. He's just as arrogant in person as in interviews, and she'll be damned if the good-looking writer of love stories thinks he's the one to finish her grandmother's final novel…even if the publisher swears he's the perfect fit.

Noah is at the pinnacle of his career. With book and movie deals galore, there isn't much the "golden boy" of modern fiction hasn't accomplished. But he can't walk away from what might be the best book of the century―the one his idol, Scarlett Stanton, left unfinished. Coming up with a fitting ending for the legendary author is one thing, but dealing with her beautiful, stubborn, cynical great-granddaughter, Georgia, is quite another.

But as they read Scarlett's words in both the manuscript and her box of letters, they start to realize why Scarlett never finished the book―it's based on her real-life romance with a World War II pilot, and the ending isn't a happy one. Georgia knows all too well that love never works out, and while the chemistry and connection between her and Noah is undeniable, she's as determined as ever to learn from her great-grandmother's mistakes―even if it means destroying Noah's career.
Review:
The Things We Leave Unfinished was an emotional powerhouse that quickly enraptured my heart.  The story was hauntingly beautiful and I wasn't ready to say goodbye to these characters.  This is easily one of my top favorite reads of the year and if you love romance, then you should definitely have this one on their tbr.
"You said you know the worth of what I just handed to you."
"I do,"
Our gazes collided, the electricity – chemistry, attraction, whatever it was – coursing between us enough to raise goose bumps on my arm. "Earn it." – Georgia & Noah
The book alternated between Georgia and Noah in the present, and her great-grandparents Scarlett and Jameson in the past.  The story flowed seamlessly between the past and the present and in each moment I was captivated with what was unfolding on the pages.  I loved how easy it was to become invested in their lives, and that doesn't always happen with me when there's two time periods in a story.  But it was because I loved these four characters with my whole heart and soul.
"I've never had a problem reaching for things I want," I replied softly. "It's the falling that gets me into trouble." – Georgia
 Within that first chapter, I was already enchanted with Georgia Stanton and her world.  She was back home, in her quaint town, while healing from a very public divorce.  I quickly connected to her and felt her pain, not only from her past but even when she interacted with her mother.  Georgia's emotions flowed so easily into my heart.  And when she met Noah Harrison, I loved how she had no problem being vocal with her opinions.  I adored their meet cute and the path he led her down!
It wasn't that I was living for him, but that he simply made me want to live.  To fight.  To prove my point.  To take a stand when I'd usually defer to someone else's emotions and take the path of least resistance. – Georgia
Noah and Georgia butted heads right away and were both fabulous at holding their ground.  But Noah had an amazing opportunity to help finish his idols book about her romance with a World War II pilot.  And the author was Georgia's late great-grandmother, Scarlett.  You could feel the attraction between Noah and Georgia.  And while sparks flew when they were together, they had a lot of obstacles in their way.  Quite a few of their antics had me laughing out loud, and so many of the others had me constantly smiling.   So let it be known that I loved Noah.  Not only was he tall, dark and handsome, but he was determined, thoughtful and caring.  Together, Noah and Georgia filled the pages with laughter, longing and the most wonderful of angst.
Too much, too soon, too fast…it was all of that and then some, but she couldn't bring herself to slow it down. – Scarlett
 Georgia and Noah's chapters would always start with a letter from the past.  And a few chapters into this book, we also got to hear Scarlett and Jameson's story.  Scarlett was active duty and stationed alongside her sister Constance, during World War II in 1940.  Scarlett was brave and strong for helping out her country during the war, and the moment she met Jameson I was obsessed.  Jameson was a pilot who was captivating, seductive, swoon worthy, protective and I couldn't stop smiling every time he spoke.  Their moments together created butterflies in my stomach and their love story captured me so easily.  Scarlett and Jameson had this soul deep connection that was intoxicating.  But every moment felt like it could be their last, their world was so unstable.
His heartbeat was strong and steady as they swayed. Here was the only place she felt safe or certain about anything lately. There was nothing in this world that compared to the feel of his arms around her. – Scarlett and Jameson
I shouldn't have been surprised that I already had tears within the first 100 pages of this story, and they definitely weren't the last.  Because the world that they lived in, the sacrifices they made for the greater good and the risks they took with their own lives was gutting and harsh.  Yet it was their way of life.  It was because of brave people like Scarlett and Jameson that their countries could survive.  But everything could change in the blink of an eye and I was beyond terrified for them.  So there were countless times where it felt like my heart was in my throat, and there was no controlling my emotions when I was in their world.
Nothing was close enough. She wanted to feel his ever breath, every heartbeat, wanted to live inside that kiss where there were no bombs, no raids, nothing that would pry him from her arms.
She lifted her hands to his neck and arched against him as his lips slid to the curve of her jaw. – Scarlett
The happiness that Scarlett and Jameson felt made me sigh out loud and smile.  Their times together were beautiful, emotional and their love was so powerful.  I also loved Scarlett's sister, Constance, who seemed to be such a huge champion for the both of them.  The bond between the sisters was such a wonderful part of this story and it too pulled my emotions in so many ways with how their lives unfolded.  But with all of the love that flooded the pages, there was also loss.  It was so devastatingly painful that I sobbed.  I couldn't stop the tears that were falling down my face as I flipped through the pages.  And just when I thought I wouldn't cry anymore, the steady stream of tears continued.  But have faith, because not only was there so much love within these pages, but we also got to have a happily ever after for some of those we loved.
The smile that lit his face was echoed on hers, and for the first time in what felt like forever, she allowed herself to feel that happiness radiate, to sink into every fiber of her being. – Scarlett
The Things We Leave Unfinished was a beautiful and tragic tale of love, loss, sacrifice and hope.  Since finishing this story, I haven't been able to stop thinking about it days later.  If you love romance, epic love stories and characters that will easily steal pieces of your heart, you definitely want this one on your tbr!  I can't recommend it enough!
*I voluntarily read and reviewed an advanced copy of this book, provided by the publisher. All thoughts and opinions are my own.*
Related Posts