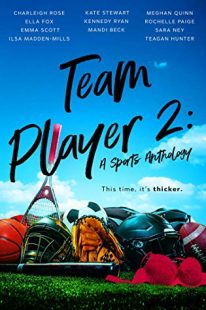 Team Player 2: A Sports Anthology
by
Charleigh Rose
Purchase on:
Amazon
Add to:
Goodreads
Synopsis:

Muscular football players. Passionate tennis pros. Sexy soccer stars. All sorts of alpha hotties, on the field and off.

Have no fear! The team is back again, and this time...it's thicker. You'll get your sports romance fix with brand-new stories from eleven bestselling authors.

Need one last summer fix? Dive into this anthology.

*This anthology contains original, never-before-seen stories from Ella Fox, Mandi Beck, Teagan Hunter, Ilsa Madden-Mills, Sara Ney, Rochelle Paige, Meghan Quinn, Charleigh Rose, Kennedy Ryan, Emma Scott, and Kate Stewart.

We still aren't responsible for melted devices.
Review:
Guys Like You by Charleigh Rose was seductive, addicting and the characters were everything!  I couldn't stop smiling or laughing, except when I was sighing out loud.  This book was the perfect mix of being emotional, hilarious and sexy.  Halston and Sully's story is for everyone out there who loves a sexy romance story!
Conversations lead to empathy. Empathy leads to intimacy. Intimacy leads to attachment. Attachment leads to heartbreak.
Halston and Sully ended up meeting at a party, and right from the start they had the most amazing chemistry.  Which led to the hottest sex ever *fans face*.  But it didn't matter, because Halston was convinced that boys weren't relationship worthy.  Except, she couldn't escape Sully.  Their two best friends were starting to have something between them, so of course they kept running into each other.  And each time they did, you could feel the electricity between the two of them!
This. This right here is why girls get a bad rap. Give them one night of good dick and good conversation, and all of a sudden, they're catching feelings.
I loved Halston Montgomery!  She was honest, kind and I loved listening to her thoughts.  She felt like someone I could easily become bffs with.  But her personal life pained me.  Halston had been screwed over and because of that she didn't allow herself to get attached to any guy.  Thank goodness Sully had other plans to try and make her think otherwise.
"I've come to collect."
"Collect?"I frown, confused.
"Yeah. You lost our bet. You owe me a date."
"First of all, the word date was never mentioned. You said hang out. Second, I've already fulfilled my duty."
"No, actually, you didn't."
"Then what do you call the other night?"
"I call that the best night of my life." He smirks, and heat rushes through me…
Zach Sullivan aka Sully was cocky, a ton of fun and had the hugest heart ever.  He was funny without trying and beyond seductive.  So I quickly fell for his charm!  Each time he was around Halston, I was swooning and you couldn't knock the smile off my face.  Sully was the best kind of addictive and I found myself obsessed with another one of Charleigh Rose's male characters!
I know I shouldn't keep doing this. I'm playing with fire, practically begging to get hurt, but God, how can I say no when he's like this? – Halston
We met Halston and Sully in Bad Influence, and I was dying to read their story!  But don't worry, Guys Like You can easily be read as a standalone.  Although I definitely recommend reading Bad Influence too.  It was about Halston and Sully's best friends and was amazing!  Parts of the two stories overlap, but we got to see everything in a different light.  I didn't even realize the full extent of Sully and Halston.  I knew they were hooking up, but I didn't know how much or how hot it was.  And I also didn't realize the extent of their friendship.  It was so much fun and added so much depth to their worlds!  Ohhhhh plus we finally get to hear the conversation between Jessie and Halston, when Allie was in the bathroom.  I was dying to known what that was and now my heart is oh so happy!
"I want you to call me by my name, for one. You're not my frat bro, Halston."
"Then what am I?"
"You're my fucking girlfriend." He moves toward me, his hands cupping my face. "You just haven't realized it yet."
I'm instantly shaking my head in denial, my heart thundering in my chest. "No. This is exactly what I was trying to avoid. I didn't want this."
Guys Like You was scorching hot and absolutely hilarious.  By that second chapter I was already laughing so hard I had tears in my eyes.  And the way Halston and Sully couldn't stop what was happening between them made me the happiest person ever!  This book was a ton of fun, pulled on my emotions and had the most amazing epilogue!  I laughed and smiled so hard.  So yes, I absolutely loved Guys Like You and I can't recommend it or this author enough! 
PS I can't wait to read the other stories in this Anthology!
*I voluntarily read and reviewed an advanced copy of this book, provided by the author. All thoughts and opinions are my own.*
Related Posts