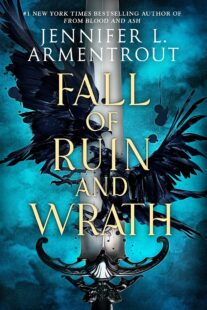 Fall of Ruin and Wrath
(
Awakening #1
)
by
Jennifer L. Armentrout
Purchase on:
Amazon
, 
iBooks
Add to:
Goodreads
Synopsis:

SHE LIVES BY HER INTUITION. HE FEEDS ON HER PLEASURE.

Long ago, the world was destroyed by gods. Only nine cities were spared. Separated by vast wilderness teeming with monsters and unimaginable dangers, each city is now ruled by a guardian―royalty who feed on mortal pleasure.

Born with an intuition that never fails, Calista knows her talents are of great value to the power-hungry of the world, so she lives hidden as a courtesan of the Baron of Archwood. In exchange for his protection, she grants him information.

When her intuition leads her to save a traveling prince in dire trouble, the voice inside her blazes with warning―and promise. Today he'll bring her joy. One day he'll be her doom.

When the Baron takes an interest in the traveling prince and the prince takes an interest in Calista, she becomes the prince's temporary companion. But the city simmers with rebellion, and with knights and monsters at her city gates and a hungry prince in her bed, intuition may not be enough to keep her safe.

Calista must choose: follow her intuition to safety or follow her heart to her downfall.

Breathtaking suspense and scorching romance meet in this immersive new fantasy from a mega-bestselling force, Jennifer L. Armentrout.
Review:
Fall of Ruin and Wrath was a dark and sensual romtansy that was so easy to get lost in.  Within those first few pages I had no clue what was going on, but I was terrified.  So take those first few chapters to immerse yourself in this new world.  It's lethal, archaic and shrouded in mystery. With a dystopian background, that was laced with high fantasy, Fall of Ruin and Wrath easily became an instant favorite!
"We keep meeting under the strangest circumstances," he noted. "I'm beginning to think fate is afoot."
"Fate?" I laughed. "You believe in fate?"
"You don't?"
Calista aka Lis was a paramour to Claude who was a Caelestia; half Hyhborn and half lowborn.  And while I've read almost every single book by JLA, over the last decade, Lis was unlike any other heroine that we have met from Armentrout.  Her intuition guided where she went in life and the decisions she made.  She also had the ability to see things happen before they did.  Like how someone would die, or horrific events on the horizon.  And I was fascinated to watch her listen into others thoughts, without needing to touch them.  Yet my heart twisted for Lis.  I questioned whether she truly knew how to have a strong mental bond with others.  She seemed to struggle with that outside of her "brother", Grady.  Maybe it was because of her gifts?  Or maybe it was because of her childhood?  Or maybe it even had to do with how she ended up as a paramour and nothing truly felt like hers?  But regardless, she seemed to have connections with those around her physically, instead of emotionally. 
"Hold still."
"I am holding still, but . . . you're on your knees, your fingers are near my dick, and you're currently gloriously nude, so . . ."
Undoing the final button, I rolled my eyes. "You can't even stand on your own two feet and you're currently regrowing eyeballs. The last thing you need to be thinking about is me on my knees, your dick, or my nudity."
"I've regrown my eyes, na'laa."
My chin jerked up.
Lis' intuition one night led her to rescue a Hyhborn.  Hyhborn's weren't mortal, they were scions of the Gods.  And the scene she was led to was terrifying, yet I couldn't help but noticing that I loved her thoughts.  They were real and honest, making it so easy to connect with her.  And the Hyhborn we met?!  I. Was. Obsessed!  Thorne was a book boyfriend many will fall hard for. I loved that he could be sarcastic and also oh so polite.  His manners as he murdered those to keep Lis safe had me cracking up.  Thorne was truly lethal, yet at the same time he was so much fun. He loved to push Lis' buttons and get a rise out of her while being addictively possessive. Add to all of that that he was capable of admitting when he was wrong. Well. It was impossible not to love everything there was about him.
"Na'laa?"
I stopped as something . . . something like hope swelled inside me. Hope for what? I really couldn't say as I looked over my shoulder at him.
The Lord stood with his back to me, shoulders a tense straight line. "Be careful."
Around Thorne, Lis could touch him and just be in the moment.  She never got pulled into her brain or saw future events she would prefer not to see. Like she did when she touched other lowborns and Caelestias. So the sexual tension between Lis and Thorne was done fabulously.  It was a slow burn that was filled with the most fabulous banter.  It was impossible not to smile at so many of the moments between them.  And while Thorne and Lis were worlds apart, it always felt like there was something pulling them together. As though there was a higher power connecting them. So because of that, I loved watching the tentative trust build. That they could be comfortable with each other.  That it felt like Lis was finally making an emotional connection with someone. And of course how steamy they could be together too *fans face*.
I connected with him, and my intuition came alive, showing me the future— the excruciating crack of bone in my right arm, then my left. The phantom pain traveled to my throat. I felt it all.
His death.
And I . . . I smiled.
Yes there were other characters outside of Lis and Thorne, but I am rather obsessed with those two. I'm still unsure of how to feel towards Naomi, who was her first friend outside of Grady. And I would love if Lis threw an apple at Claude's head, like Alex. Yes he took care of Lis as he used her as his own personal lie detector, but I loathed that he called her Pet. There was also a man named Hymel that I kept hoping would die on every page he appeared lol.  Ohhh then there were two friends of Thorne that we didn't spend a lot of time with, yet I adored both of them.  I can't wait to get to know them better!  They had found family written all over them!  But on top of those we met, there was a whole world and political intrigue that I'm not even touching on.  It was fascinating and better left for you to discover on your own!
"Don't."
My gaze flew back to him.
"I would warn against attempting to run," he advised, walking past me.
"Because you will stop me?"
"Because I will give chase." He unhooked the straps holding the short sword to his back as he crossed into the bedchamber. "And I will capture you."
Fall of Ruin and Wrath was laced with a fascinating world, characters that will steal you heart, mysteries that are intertwined with secrets, and moments that will leave you on the edge of your seat! There were so many moments that were impossible to stop smiling or screaming from excitement. Especially when it came to Thorne. That last page was the most perfect stopping point. Yet I am definitely counting down until the next book is released and we can be back in this world!
PS The shower scene was one of my favorite moments.  Nope, it's not what you think it is *side smirk*.
Other Favorite Quotes:
My senses opened to him. I saw nothing in his eyes or in my mind.
But I felt something.
A warning.
A reckoning.
A promise of what was to come.
And I knew.
"Apologies, my pet. I do get a bit animated when I speak. Got it from my mother."
"' Pet'?" Prince Thorne queried softly.
The back of my neck tingled, and it had nothing to do with intuition.
I froze. Tiny hairs lifted along the nape of my neck as the air thickened and the flames stilled. That mouth of mine had surely gotten me in trouble this time.
But Prince Thorne . . . he smiled.
My stomach dipped.
The smile he bestowed was not tight or cold. It was wide and real, showing a hint of teeth and softening the icy, unreal beauty of his features.
"Do you finally think of me as a monster?"
I closed my eyes.
"You should," he said softly. "The blood that is on my hands will never wash off. I wouldn't even attempt to do so."
*I voluntarily read and reviewed an advanced copy of this book, provided by the author. All thoughts and opinions are my own.*
Related Posts