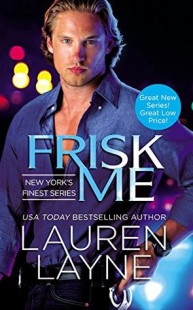 Frisk Me
(
New York's Finest #1
)
by
Lauren Layne
Purchase on:
Amazon
, 
iBooks
, 
Book Depository
Add to:
Goodreads
Synopsis:

Officer Luc Moretti had no idea that his dive into the East River would have him drowning in a media frenzy. No matter how many times he tells reporters he was just doing his job, they're determined to make him into NYC's newest hero. Coming from a long line of NYPD's finest, Luc knows that being a cop has nothing to do with headlines and viral videos, and he's more than ready to get back to life away from the cameras-until he meets the gorgeous but jaded journalist assigned to film a TV special on him . . .

Ava Sims may be the only woman in NYC who isn't in love with Officer Moretti. That's why she's going after the real story-to find out about the man behind the badge. Ava's determined to keep things strictly professional, but the more time she spends around Luc, even she has to admit there's something about a man in uniform . . . and she can't wait to get him out of his.
Review:
I fell madly in love with this story!  Frisk Me was a dynamic blend of laughter, sarcasm, sexiness and characters that found their way into my heart.  But in all honestly, I was nervous to start this book.  I struggled with the idea that a police story could be fun and sexy.  BUT the first page alone proved me SO wrong because I was already smiling.  Never again will I second guess or question the storyline or type of characters in a Lauren Layne book!  Because the stories and characters she creates are always amazing!  They make me laugh, smile, cry and fall hopelessly in love with them.  Her stories are the kind that stick with you for a long time to come and that you want all of your friends to read!  You must meet Luc and Ava!
Luc Moretti, sigh.  He is from an Italian family whose blood runs in the force.  His three brothers are also cops and his father just retired as a police commissioner in the NYPD.  He is courageous but not a big fan of being pegged as a hero in the public eye.  A little girl fell off of a bridge and without a second thought, Luc jumped in, swam her to shore and did mouth to mouth to bring her back to life.  The problem was it was captured on someone's phone and everyone knows about his heroic act.  While he wants his life back to normal since he was just doing his job (love his modesty), enter Ava Sims.  She's a correspondent from CBC and wants to run a three-hour national special on him and the NYPD.  And Luc has no option but to oblige.
I loved Luc!  He has such a sweet heart.  The thoughtful gestures he would do for Ava melted me into a smiling puddle of goo.  And on top of that he was also humble, charismatic, wounded, funny, sexy and such a good guy!  But you know what the icing on the cake was?  He had a way of twisting his words or a situation into something sexier than it should have been.  It lit up my face every single time he did it!  So yeah, Luc is definitely getting added to my list of book boyfriends.  I never once thought I'd have a cop on there!  But now I do lol!
Like many of her other books, we also get to see Ava's side of the story.  Ava is definitely a multi-faceted person, and while I loved her personal side, sometimes I didn't always see eye to eye with her business side.  You see, there is the calculated, driven women that she portrays to the majority of the world, but when she kicks off her high heels and changes into her flip-flops then the real Ava is in full effect.  She is unsure, funny, a smart ass and very perceptive.  She was extremely easy to like and connect with.  But of course my favorites parts of her was when she was interacting with Luc.  Because the sarcasm between the two of them created the perfect amount of sexual tension and made me laugh so hard at their antics.  They were characters that I understood inside out and I couldn't get enough of them!
Another thing I couldn't get enough of was Luc's family!  They interfered in the best of ways and oh my gosh they were hilarious, loving and looked out for one another.  Their weekly get togethers always made me laugh and feel all warm and cozy in my heart.  It was wonderful to see such a strong family unit that felt real in a book!  But you want to know who my favorite family member was…well besides Luc?  Nona, his Grandma.  She is a hoot, and then some!  Just try reading her scenes without laughing hysterically, I dare you!
So yeah, I loved this book!  I laughed and cried hysterically, and I am so excited that I get to read more about these characters!  Because the next book in this series is about Luc's brother, Anthony.  He's grumpy hmmm or maybe more guarded then Luc, but he is intriguing and has the Moretti charm so I can't wait to see what's in store for him!  Until then, I have to go read another book written by this author.  Lauren Layne's writing and characters are that addicting!
*ARC kindly provided by Forever Publishing via Netgalley in exchange for an honest review*
Reading Order & Links:


Amazon

(click on covers),

iBooks (click on titles) & Book Depository (click on book #)
***Each book can be read as a standalone, but best enjoyed in order.***

Frisk Me #1
Reviews:
Chelsea
Jen

Steal Me #2
Reviews:
Chelsea

Cuff Me #3
Reviews:
Chelsea
Interview:
What is something we would be surprised to learn about Luc and Ava?
That they're not each other's type!! Luc is laidback and charming, and prefers women who are equally low-key and friendly. Ava is all sharp-edges and cynicism, and is accustomed to dating guys who are equally edgy. The fact that they want the other person in spite of themselves is what makes the story so fun 🙂 . He can't figure out why he wants this prickly ambitious nightmare, and she can't figure out why she's so drawn to a blue-collar, quick-with-a-smile cop.
If you had to cast Luc and Ava, would you prefer them to be known or unknown actors?  Anyone in mind?
I've had the HARDEST time finding a celebrity look alike for Luc. I know that he has the likable steadiness of Nick from the TV show Grimm, and he has the searing good looks of Josh Duhamel, and the sheer yumminess of Ryan Gosling's upper body … but no one guy was quite right for him!
As for Ava, from the very beginning she has ALWAYS been Minka Kelly.
(I have to say that I sighed when I read the Josh Duhamel comment.  I've had a serious crush on him since he first appeared on tv back in 1999!-Jen)
What was your favorite scene to write in Frisk Me?
Definitely any scene that involves Nonna, especially when she has her yoga mat out!  🙂
What inspired you to write about cops?
You know, in full disclosure, a series about NYC cops was on my publisher's wish list. My agent mentioned it to me, thinking I might be a good fit since I'd lived in New York, and I was pretty much on my tippy-toes, hand raised in the air like, "Ooh, me me me me!"
What is your favorite quality to write in a character?
I'm a sucker for a witty character; I have so much respect for people who are always ready with a one-liner, and I just love when a character is born into my head with this sort of wittiness all ready to go.
The next book in the series is Steal Me which is going to be about Luc's brother, Anthony.  Can you tell us a little bit more about what his story will be about?
Excuse me for a moment while I happy sigh. Anthony's story was a little different for me … there's a sweetness to Anthony and Maggie's love story that really caught me off guard. Basically, Anthony is a workaholic who has zero time for relationships. Maggie is the sweetheart waitress at the diner his family frequents. They set off sparks from the very beginning, but it's not until Maggie becomes the key witness in a case he's working on that they realize there's so much more physical chemistry between them. There's so much sexual tension in this story, I swear you will FEEL the want.
Giveaway:
About Lauren Layne:
Lauren Layne is the USA Today Bestselling author of contemporary romance.
Prior to becoming an author, Lauren worked in e-commerce and web-marketing. In 2011, she and her husband moved from Seattle to New York City, where Lauren decided to pursue a full-time writing career. It took six months to get her first book deal (despite ardent assurances to her husband that it would only take three). Since then, Lauren's gone on to publish ten books, including the bestselling Stiletto series, with several more on the way in 2015.
Lauren currently lives in Chicago with her husband and spoiled Pomeranian. When not writing, you'll find her at happy hour, running at a doggedly slow pace, or trying to straighten her naturally curly hair.
Website | Facebook | Twitter | Goodreads
Save
Related Posts
If you haven't noticed, I'm a little in love with the stories that Lauren Layne creates. They always make me laugh, smile, cry and fall hopelessly in love. Frisk Me is no exception! So continue on to see what her latest release is about, check out my interview with the author, my 5 Star Review, and enter to win a $50.00 Amazon eGift Card with Signed Copies of FRISK ME, ONLY WITH YOU and MADE FOR YOU (Print US/Ebook INTL). YAY! Enjoy! ♥