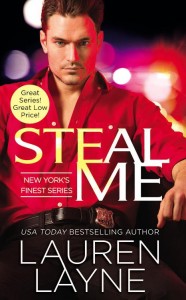 Steal Me
(
New York's Finest #2
)
by
Lauren Layne
Purchase on:
Amazon
, 
iBooks
Add to:
Goodreads
Synopsis:

IN HOT PURSUIT

Being a cop might be in Anthony Moretti's blood, but protecting and serving the city of New York has always been more than just the family business. If that means his love life stays locked up, well then that's just another sacrifice made in the line of duty. That is, until he sets eyes on the gorgeous new waitress at The Darby Diner and suddenly Anthony's morning coffee is leaving him a whole lot more hot and bothered than usual.

Though waitressing at The Darby isn't exactly Maggie Walker's dream job, it pays the bills and gives her time to work on her novel. Now if only she could stop fantasizing about gorgeous Anthony Moretti every time he sits down at her table, she'd really be in great shape. But when he needs her help identifying a criminal threatening The Darby—and Maggie recognizes her ex-husband—she fears her fresh start might be a pipe dream. Faster than a New York minute, Maggie and Anthony find themselves in one perilous pursuit that only gets hotter with each and every rule-breaking kiss.
Review:
"Maggie," he whispered, just as her eyes started to close.
"Hmm?"
He was silent for a long moment. Then, "Nothing. Go to sleep."
So she did. But in her dreams, he finished that sentence with something else entirely.


I am so so SO happy to announce that Mizz Lane has outdone herself…AGAIN. I can't make this stuff up, folks. It's not possible. Contemporary is hardly worth reading most of the time, in my opinion, so it's not even like I feel as if I should be forcing a smile and a good rating because I'm trying to stay true to myself. No, I simply read Lauren Layne…and it makes me the happiest person in the world-No matter how terrible I'm feeling. Which, frankly, has been a frequent state of mind lately-Helplessness. So, suffice to say, anything that makes me smile and laugh and swoon is a stellar piece of work-REALLY.
"You did something. I know you did something."
Anthony gritted his teeth and let out a small grunt as he pushed through another bench press. Eight.
"You either showed her your wang, or didn't show her your wang. And whichever choice you made was obviously the wrong one."
He blocked out the voice of his grandmother and pushed through another. Nine.
I always hesitate to pick up my Layne ARCs….because, ya know, like my fellow blog-mate said-It's as if we keep waiting for that first LL 3 star and we dread the day it comes. Will that day ever come? I'm starting to think it never will…Though, it's a terrifying thing to think about. But then we always pick them up and have the best time reading them. No matter where we are or, as stated above, what mood we're in, her works seem to lift us to another place. Or, at least, that's how I feel. I can be the most depressed person in the world, and then I'll pick up my favorite author's latest and greatest hit, and all of a sudden I'm just so happy out of nowhere. It's such a wonderful feeling. Cut the crap. Drop the gushing. These are just facts: It takes someone truly spectacular to control your mood like that. It's the purest form of mind manipulation, but you don't feel that way at all. It's the best kind of mind control, and after you come out of the trance, you can't help but feel as if you didn't get enough. It's crazy-it's almost like you feel as if you've lost a big group of friends after putting her books down. It's an ache that can't be filled. Well, at least until I get my hands on another book of hers.

"Big biceps won't help you with that girl. Do they have exercises for personality? You should do those."
"Bench presses aren't for biceps, Nonna. They're shoulders. Pecs." This from Luca, who was sprawled on the couch with a beer.
"Pecs, huh?" Maybe I should give the weights a shot. Then again my push-up bras do the trick just fine."
Ten. Anth scooted down on the bench, grabbing a towel from the ground as he glared at his grandmother. "We talked about this. No reference to your lingerie. Ever."
"He's right," Luc added, glancing over at them. "We did talk about it."
In case you've felt foreign feelings while reading an LL novel, I've compiled a list of symptoms that contribute to the Lauren Layne fever. They are as follows:
-Loss of breath
-Excessive lip biting
-Lack of drive to do literally anything else besides read her current novel
-Contentedness
-Grouchiness when bothered
-EXPLOSIVE butterflies
-So many feels they hurt
Have you encountered any of these symptoms? Tsk. *Shakes head and sighs* You've got it bad, bro. But believe me-You are not alone!! Don't feel the need to seek help-we here at Star-Crossed Book Blog are all too familiar with these symptoms (and phantom pains when one of her books isn't available yet) and we are here to help you!! There, there. It will be okay-come gush with us, we can't get enough of it. 😛
Captain Moretti transferred his annoyed gaze back to Maggie, but she held up a weary hand. "Save it. Or add it to my list of sins. I don't really care. I'm going home. If either or both of you want to walk me to the subway station out of some macho display of chivalry, go for it, but under no circumstance do I want to chat. Got it?"
She walked away then, ignoring the rain, ignoring the hurt, and definitely ignoring the men behind her.
But she couldn't help but glance over her shoulder, just once before heading down the stairs to the train platform, and somehow she wasn't at all surprised to see that Captain Anthony Moretti had followed her, hands shoved in his coat pockets as he watched her from several feet away.
And despite her bad mood, Maggie might have smiled. Just a little bit.
Now, I won't lie, I didn't really care to venture off from Luc and his story-no worries, he was a constant even though he wasn't a main character-Or so I thought. What a fool I was. What a sad and deranged fool. Because Anthony?? Yeah. Wow. I did NOT see this asshole comin'. He literally-I swear-eeked his way into my heart. I picked this book up and I was all 'Alright, let's get this started so I can see me some more Luc'. Yeah-Luc, who? I'm just kidding…but really. I loved and adored Luc, he was absolutely perfect-really-but what Layne does best is make you care about who the story is centered around in spite of the fact that you really were thinking you were going to stick to your guns and only love your first guy. No, no. When she writes a story, she comes to play-You can love your other guy all you want, but at this time, in this story, Anthony is the man, and you will not want for anyone else, because this mofo is all you can handle. Seriously. I think your feels would implode if you tried to squeeze another guy in.
"You're just going to lay here and let me read silently?" he asked. "You'll be bored."
Maggie tilted her head up and met his eyes. "It's been years since someone's held me. Trust me, I won't be bored."
His gaze softened before turning to the computer screen, where he began to read.
But here's the thing! When the other characters intervene? You aren't annoyed. You don't sigh because it's taking time from Anthony and Maggie. In fact, when Luc and Ava are there, it purely adds to the story-fully enhances it. So not only do you have a wonderfully well-rounded romance NOT bathed in sex scenes and cheesy dialogue, but a romance that embraces sexual tension and quirky humor between friends and family that never gets old. And the dialogue?? It makes you bust out laughing at the simplest roll of the eyes or the smallest deflection of Nonna-their outspoken grandmother who loves to push their buttons (and, ironically, push innuendos about sex towards her grandsons lol). There's such a strong substance to her works, and I always annoy people with my gushing, I'm sure, but I'm sorry-it's so rare to find an author who not only values a good romance, but the idea that a story doesn't need to center around sex to make you feel fulfilled by the end of it. Oh, and to be clear? There's sex. Oh yes. Don't mistake that-it's just not shoved down our throats every other chapter. Hmm. *taps chin* So refreshing. I swear she's my author soul-mate.
"You're…"
She looked at him through hazy eyes."Hmm."
"Everything," he said quietly.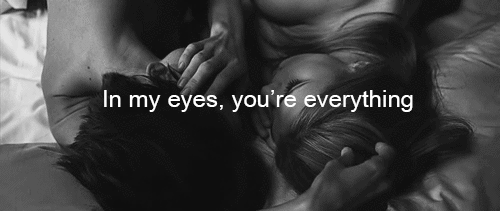 And a quick word about my dear Anthony-Sweet, gruff, authoritative, quiet but in control, and kind as a person can get, he will surprise you. He has his demons, which, you know, would make him a tortured male lead (*holds hands up* hey, I totally didn't list that as a quality because I know I've SO overplayed it lately so shhh) and even more enticing than I even thought possible. But he has a lot of shit to work through, and it may aggravate you at times (I guess…I didn't care in the least *shrugs*), but he is nothing but loyal and protective and fierce. He'd do anything to protect this sweet, yet feisty, aspiring author (love that!). Oh, and did I mention he gets totally jelly? Yeah…he totally does. :DDDDD
"Hey," he said, touching a fingertip to her face. "Don't do that. Those cops outside are there for your protection."
"They're there to catch Eddie as much as they are to protect me," she pointed out.
"Yeah," he said, looking troubled as his hand found the doorknob of her front door. "The problem is, I care a hell of a lot more about the second one than I should."
Maggie opened her mouth, wanting to say…something.
But he was already gone.
Giggles. Hearty laughs. Smiles so large and so frequent they hurt my face. My stomach is STILL churning. Anthony, Luc, and their family are back at it again, bickering and meddling in each other's lives for the most sincere help they think they can offer. It was all so sweet it gave me a toothache…but no one makes my teeth ache better than Layne. It's the best kind of annoyance…and now I've got the fever AGAIN. I swear that pesky bug won't go away.
Reading Order & Links:


Amazon

(click on covers),

iBooks (click on titles) & Book Depository (click on book #)
***Each book can be read as a standalone, but best enjoyed in order.***

Frisk Me #1
Reviews:
Chelsea
Jen

Steal Me #2
Reviews:
Chelsea

Cuff Me #3
Reviews:
Chelsea
BUY NOW
Amazon | B & N | Google Play | iTunes | Kobo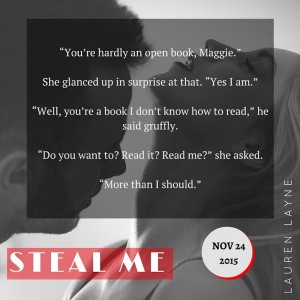 About Lauren Layne: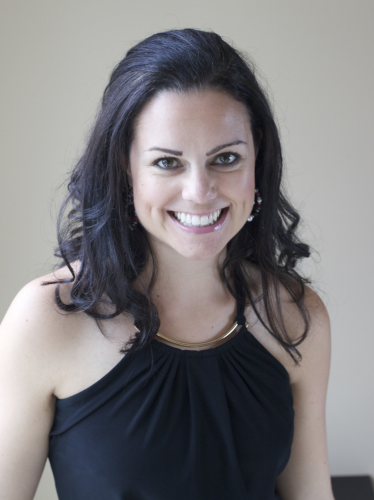 Lauren Layne is a USA Today Bestselling author of contemporary romance.  Prior to becoming an author, Lauren worked in e-commerce and web-marketing. In 2011, she and her husband moved from Seattle to New York City, where Lauren decided to pursue a full-time writing career. It took six months to get her first book deal (despite ardent assurances to her husband that it would only take three). Since then, Lauren's gone on to publish ten books, including the bestselling Stiletto series, with several more on the way in 2015. Lauren currently lives in Chicago with her husband and spoiled Pomeranian. When not writing, you'll find her at happy hour, running at a doggedly slow pace, or trying to straighten her naturally curly hair.
Website | Facebook | Twitter | Goodreads
Excerpt:
[scroll-box]Maggie Walker had become their default waitress at the diner back when their old waitress Helen had retired a couple months ago. And while Anthony missed Helen and her too-strong floral perfume, he had to admit that Maggie was the better to look at.
She had a wholesome, girl-next-door look that appealed to him mightily. Brown hair that was always on the verge of slipping out of its ponytail, wide, compelling green eyes that made you want to unload all your darkest secrets.
Curvy. Hips that were exactly right;, breasts that were even better.
And then there was that smile. It managed to be both shy and friendly, which was handy because he was betting it was very hard for even the most impatient customers to get annoyed at her.
But Anth didn't buy the doing-my-best routine, and seeing as she was dealing with an entire table of observant cops, he was betting the rest of his family wouldn't buy it either.
Then Luc leaned forward and gave Maggie an easy grin. "Don't even worry about it, Mags. Didn't even notice I was running low!"
Luc's girlfriend, Ava, smoothly reached up one hand and swatted him on the back of the head, the gesture so graceful, so practiced, that she never once sloshed her coffee. Anthony nearly smiled.
To say that Ava Sims was good for his little brother would be an understatement. The big brother in Anthony would be forever grateful that the gorgeous reporter had helped Luc vanquish his demons. But the big brother in Anth was also grateful that Ava helped keep his younger brother in line. Or at least tried to.
He rolled his eyes as Luc shot a guilty smile at his girlfriend, but even as he slid his mug towards the edge of the table so Maggie wouldn't have to reach as far.
Then Anth watched in utter dismay as Vincent did the same.
Vincent. The guy who'd practically devoted his life to being perverse, was trying to make life easier for their inept waitress.
Un-fucking-believable.
Anthony was so busy trying to figure out what about the frazzled waitress turned his brothers into a bunch of softies that he didn't think to move his own mug to be more convenient, and Maggie had to lean all the way in to top off his cup.
It was a feat that their old waitress could have handled readily, but Helen had retired months ago and for reasons that Luc didn't understand, the rest of the Moretti family had embraced Maggie as Helen's replacement.
Anthony didn't realize that his mug had overflowed until scalding coffee dripped onto his thigh.
"Son of a—"
He caught himself before he could finish the expletive, grabbing a large handful of napkins from the silver dispenser and trying to soak up the puddle of coffee on his jeans before it burned his skin.
"Nice, Anth," Elena said, tossing another bunch of napkins at him. Like this was his fault.
"Oh my God," Maggie said, her voice horrified. "I'm so sorry, Officer…"
"It's Captain," he snapped, his eyes flicking up and meeting hers.
Silence descended over the table until Vincent muttered douchebag around a coughing fit.
But Anthony refused to feel chagrined. The woman had waited on the family every Sunday for weeks; one would think she could get his title right. To say nothing of mastering the art of pouring coffee.[/scroll-box]
Giveaway:
  Tour Hosted By:
Follow the rest of the tour here: Click Here
Related Posts
I am always so happy to spread the Lauren Layne joy, no matter which characters I am focusing on. Below you can take a look at my 5 star review and check out an excerpt, a teaser, and enter to win some goodies in a Rafflecopter Giveaway! I hope you'll enjoy reading Anthony and Maggie's story-it's not one to miss! 🙂