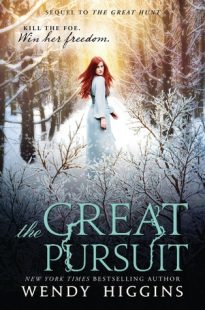 The Great Pursuit
(
Eurona Duology #2
)
by
Wendy Higgins
Purchase on:
Amazon
, 
iBooks
, 
Book Depository
Add to:
Goodreads
Synopsis:

In The Great Pursuit, the dramatic sequel to the New York Times bestselling The Great Hunt, Wendy Higgins delivers another thrilling fantasy filled with dangerous enemies, political intrigue, searing romance, and a princess who is willing to do everything to protect her kingdom.

One hunt has ended, but the pursuit for love and justice continues.

The kingdom of Lochlanach has traded the great beast that once terrorized the realm of Eurona for something far more dangerous: the ire of powerful Lashed woman Rosaria Rocato. Rosaria demands that Eurona overturn the laws prohibiting magic, or an innocent will be killed each day.

Despite the king's resistance, Princess Aerity believes they must make peace with the Lashed, and though she's accepted a betrothal to the man who took down the beast, she cannot help thinking about Paxton, the Lashed man who stole her heart and disappeared.

Aerity soon discovers that Paxton has joined Rosaria's army in the war against her family. Though her feelings for him are still strong, her duty to her kingdom and her family is stronger—especially when her parents are kidnapped and she has to step up to the throne and once again put aside what's best for her in order to do what's best for her people. Paxton and Princess Aerity must fight to see what is more powerful: their love or the impending war between the magical Lashed and the non-magic humans.
Review:
***Spoilers for The Great Pursuit.  You can read my review of the 1st book here.***
The Great Pursuit was a fabulous conclusion filled with action, adventure, love and political intrigue. Deceit, lies, betrayal, hope, sacrifice, love, and friendship were splashed across the pages and I fell madly in love with this duology. My favorite things by far were –
✮ Everlasting Love –
"What will happen to us, Pax?" she whispered.
A deep sense of desperation to grasp their time together rose within her. This could be it. This could be their last moment alone together.
He held her tighter and pressed his forehead into her abdomen. "I just want to keep you safe." – Aerity and Paxton
I was so nervous and constantly trying to figure out how Aeity and Paxton could be together. She's betrothed to Lord Alvi, so how could she get out of that? How could she be with Paxton? My mind kept pondering those questions, because I'm neurotic like that lol. But as I watched Aeirty and Paxton, the risks they took for one another had me on the edge of my seat. I was breathless with how much they were each willing to sacrifice for the other. Their love was so beautiful. And their moments together made my heart race. They were definitely a couple I was rooting for, and I hoped against hope that they could beat the odds that were stacked up against them.
✮ A True Leader –
Determination rang out inside her, clearing away all doubts and fears before they had a chance to surface. She had no time for any of that. – Aerity
Aerity proved herself time and again what a competent, fair ruler she was. But thank goodness she made a few selfish decisions, because she deserved them! The challenges and hardships she faced seemed all consuming at times. And I easily found my heart breaking and struggling right along with hers. Yet she was a smart, strong woman, so I always had faith in the choices she made.
✮ It's Not Just About Princess Aerity and Paxton Seabolt –
Vixie propped a hand on her hip. "If you wished to ward him off, you could have simply kissed me. I've heard that strategy works well."
Tiern's eyes rounded, and Vixie pressed her fingers to her lips to hold back a laugh at her boldness.


"Perhaps next time I will, little sea star," he said threateningly.
Just as I became attached to so many others in The Great Hunt, it felt as though those characters played an even bigger part in this book. I became obsessed with not only them staying alive and their happiness, but also their love lives too. See there's two other couples I was rooting for. This first was Tiern and Princess Dixie. Ohhh Tiern, sigh. He was just as fabulous at making me swoon as his big brother, Paxton. He was charismatic, charming, sexy and their banter and fights lit up heart! The other couple involves Lady Wyneth, but you'll figure out the man I was rooting for when you read this book. *winks*
✮ A New Favorite Character –
"By the seas, you are rather cute in an ugly sort of way, aren't you?" Harrison sighed and passed him up to a giggling Aerity. – About Furball!
I LOVED Furball! Oh my goodness, I adored him so much. And I'm sorry I can't tell you anything about him, but I have a feeling you'll love him too.
✮ Friendship –
She whispered to him, "What have I done, Lief? That was awful!"
And to her utter surprise, Lief palmed her cheek and gently said. "No, Princess. That was incredible." And then he began to laugh.
Not only did this book display strong, female friendships, which I loved! But it also displayed strong non-sexual friendships between males and females, which I loved too. My favorite was Aerity and Harrison, who have been friends forever. We got to see many sides of their friendship, and just how far they would go to help each other out. And my second favorite friendship was Aerity with Lief. While he could be frustrating at times, with his beliefs and actions, I loved how they pulled together. I loved, loved, loved how their friendship evolved over time. It was perfect!
When I closed this book, I was so ecstatic with how everything panned out. Especially that epilogue! Oh, Wendy Higgins' epilogues are always so perfectly beautiful. But I'm going to hold out hope that someday, if we're lucky, we'll hear more about Princess Dixie and Lady Wyneth's HEA with their sexy men. Fingers crossed…….
Related Posts