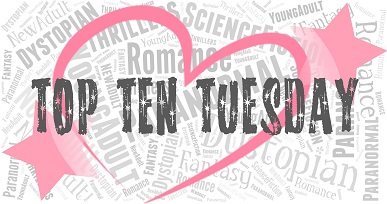 Top Ten Tuesday is a weekly meme hosted by The Broke and the Bookish.
This week we get to talk about Books We're Looking Forward To For The First Half Of 2017. And they are….
| | |
| --- | --- |
| (Chelsea & Jen's Choice – Review) | (Chelsea's Choice – Review) |
1. Carve The Mark by Veronica Roth (Releases 01/17):
On a planet where violence and vengeance rule, in a galaxy where some are favored by fate, everyone develops a currentgift, a unique power meant to shape the future. While most benefit from their currentgifts, Akos and Cyra do not—their gifts make them vulnerable to others' control. Can they reclaim their gifts, their fates, and their lives, and reset the balance of power in this world?
Cyra is the sister of the brutal tyrant who rules the Shotet people. Cyra's currentgift gives her pain and power—something her brother exploits, using her to torture his enemies. But Cyra is much more than just a blade in her brother's hand: she is resilient, quick on her feet, and smarter than he knows.
Akos is from the peace-loving nation of Thuvhe, and his loyalty to his family is limitless. Though protected by his unusual currentgift, once Akos and his brother are captured by enemy Shotet soldiers, Akos is desperate to get his brother out alive—no matter what the cost. When Akos is thrust into Cyra's world, the enmity between their countries and families seems insurmountable. They must decide to help each other to survive—or to destroy one another.
2. By Your Side by Kasie West (Releases 01/31):
When Autumn Collins finds herself accidentally locked in the library for an entire weekend, she doesn't think things could get any worse. But that's before she realizes that Dax Miller is locked in with her. Autumn doesn't know much about Dax except that he's trouble. Between the rumors about the fight he was in (and that brief stint in juvie that followed it) and his reputation as a loner, he's not exactly the ideal person to be stuck with. Still, she just keeps reminding herself that it is only a matter of time before Jeff, her almost-boyfriend, realizes he left her in the library and comes to rescue her.
Only he doesn't come. No one does.
Instead it becomes clear that Autumn is going to have to spend the next couple of days living off vending-machine food and making conversation with a boy who clearly wants nothing to do with her. Except there is more to Dax than meets the eye. As he and Autumn at first grudgingly, and then not so grudgingly, open up to each other, Autumn is struck by their surprising connection. But can their feelings for each other survive once the weekend is over and Autumn's old life, and old love interest, threaten to pull her from Dax's side?
3. Wintersong by S. Jae-Jones (Releases 02/07):
The last night of the year. Now the days of winter begin and the Goblin King rides abroad, searching for his bride…
All her life, Liesl has heard tales of the beautiful, dangerous Goblin King. They've enraptured her mind, her spirit, and inspired her musical compositions. Now eighteen and helping to run her family's inn, Liesl can't help but feel that her musical dreams and childhood fantasies are slipping away.
But when her own sister is taken by the Goblin King, Liesl has no choice but to journey to the Underground to save her. Drawn to the strange, captivating world she finds―and the mysterious man who rules it―she soon faces an impossible decision. And with time and the old laws working against her, Liesl must discover who she truly is before her fate is sealed.
4. King's Cage (Red Queen #3) by Victoria Aveyard (Releases 02/07)
In this breathless third installment to Victoria Aveyard's bestselling Red Queen series, allegiances are tested on every side.
| | |
| --- | --- |
| (Jen's Choice – Review) | (Chelsea's Choice) |
5. Love Story by Lauren Layne (Releases 02/14)
When Lucy Hawkins receives a job offer in San Francisco, she can't wait to spread her wings and leave her small Virginia hometown behind. Her close-knit family supports her as best they can, by handing over the keys to a station wagon that's seen better days. The catch? The cross-country trip comes with a traveling companion: her older brother's best friend, aka the guy who took Lucy's virginity hours before breaking her heart.
After spending the past four years and every last dime caring for his sick father, Reece Sullivan will do just about anything to break free of the painful memories—even if it means a two-week road trip with the one girl who's ever made it past his carefully guarded exterior. But after long days of bickering in the car turn into steamy nights in secluded motel rooms, Reece learns that, when it comes to Lucy, their story is far from over. And this time, they just might have a shot at a happy ending.
6. A Conjuring of Light (Shades of Magic #3) by V.E. Schwab (Releases 02/21)
The battle between four magical Londons comes to a head in this stunning finale to the New York Times bestselling Shades of Magic trilogy by rising star V. E. Schwab.

| | |
| --- | --- |
| (Jen's Choice) | (Jen's Choice) |
7. Till Death by Jennifer L. Armentrout (Releases 02/28)
It's been ten years since Sasha Keaton left her West Virginia hometown . . . since she escaped the twisted serial killer known as the Groom. Returning to help run her family inn means being whole again, except for one missing piece. The piece that falls into place when Sasha's threatened—and FBI agent Cole Landis vows to protect her the way he couldn't a decade ago.
First one woman disappears; then another, and all the while, disturbing calling cards are left for the sole survivor of the Groom's reign of terror. Cole's never forgiven himself for not being there when Sasha was taken, but he intends to make up for it now . . . because under the quirky sexiness Cole first fell for is a steely strength that only makes him love Sasha more.
But someone is watching. Waiting. And Sasha's first mistake could be her last.
8. Hunted (Hunted #1) by Meagan Spooner (Releases 03/14)
Beauty knows the Beast's forest in her bones—and in her blood. After all, her father is the only hunter who's ever come close to discovering its secrets. So when her father loses his fortune and moves Yeva and her sisters out of their comfortable home among the aristocracy and back to the outskirts of town, Yeva is secretly relieved. Out in the wilderness, there's no pressure to make idle chatter with vapid baronessas…or to submit to marrying a wealthy gentleman. But Yeva's father's misfortune may have cost him his mind, and when he goes missing in the woods, Yeva sets her sights on one prey: the creature he'd been obsessively tracking just before his disappearance. The Beast.
Deaf to her sisters' protests, Yeva hunts this strange creature back into his own territory—a cursed valley, a ruined castle, and a world of magical creatures that Yeva's only heard about in fairy tales. A world that can bring her ruin, or salvation. Who will survive: the Beauty, or the Beast?
| | |
| --- | --- |
| (Chelsea's Choice) | (Jen's Choice) |
9. Legion (Talon #4) by Julie Kagawa (Releases 04/25)
From the limitless imagination of Julie Kagawa comes the next thrilling novel of The Talon Saga.
10. Seeker (Riders #2) by Veronica Rossi (Releases 05/16)
The final installment in New York Times and USA Today bestselling author Veronica Rossi's new fantasy adventure in the Rider series — Seeker .
So these are the Books We're Looking Forward To For The First Half Of 2017! Are you dying to read any of these books too?
Save
Related Posts