Life:
I'm late and I've been quiet around the Blogosphere because my heart is still healing.  I was with my Grandpa last week when he passed away, and I'm still having a hard time wrapping my head around it, let alone dealing with it.  My Grandpa was a huge part of my life.  Not only was he there for every huge and little milestone, but the world felt off if I didn't talk to him every few days.  He was my best friend, and I miss him so much.  I've been spending all day with my Grandma to help her out and keep her busy and at times smiling and it's just been all consuming.  This week I'm throwing myself back into blogging, back into Christmas activities, and back into my normal routine, while also spending everyday with my Grandma.  Here's hoping that today is the start of all us healing. ♥
In case you aren't familiar with our Friday Star Posts, we like to take a look at what's happened around here in the last week, what's coming up that we are excited about and anything else that we may have to share!
♥ Enjoy!
✩✮✩✮✩✮✩✮✩✮
Giveaway:

Last day to enter to win a signed set of the Wait For You Saga (not including FIRE IN YOU). Enter → here
✩✮✩✮✩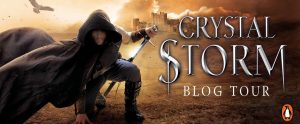 Enter to win Grand Prize: Set of the Falling Kingdom Series.  Enter → here
✩✮✩✮✩✮✩✮✩✮
Just Finished and Loved: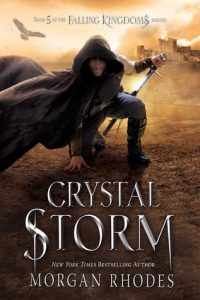 Crystal Storm (Falling Kingdoms #5) by Morgan Rhodes → Chelsea's Review
5 Stars!  I remain surprised each and every time I open a Falling Kingdoms book. They grow dramatically richer and more complex with each additional storyline, and you can't help but to love each character, good or bad, more with each new installment.
The story continues!  In the first book, Falling Kingdoms, War brought them together. Love will tear them apart.  Princess Cleo of Mytica confronts violence for the first time in her life when a shocking murder sets her kingdom on a path to collapse. Once a privileged royal, Cleo must now summon the strength to survive in this new world and fight for her rightful place as Queen.
The King of Limeros's son, Magnus, must plan each footstep with shrewd, sharp guile if he is to earn his powerful father's trust, while his sister, Lucia, discovers a terrifying secret about her heritage that will change everything.
Rebellious Jonas lashes out against the forces of oppression that have kept his country cruelly impoverished—and finds himself the leader of a people's revolution centuries in the making.
Witches, if found, are put to death, and Watchers, immortal beings who take the shape of hawks to visit the human world, have been almost entirely forgotten. A vicious power struggle quickly escalates to war, and these four young people collide against each other and the rise of elementia, the magic that can topple kingdoms and crown a ruler in the same day.
✩✮✩✮✩
4 Stars:
Someone Like You (Oxford #3) by Lauren Layne → Chelsea's Review
✩✮✩✮✩
We also had a Top Ten Tuesday Post about New-To-Us Favorite Authors We Read For The First Time In 2016. If you missed it, then you can check it out here.
✩✮✩✮✩✮✩✮✩✮
Reading Next: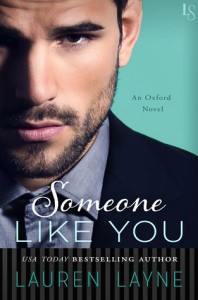 Someone like You (Oxford #3) by Lauren Layne
Lauren Layne's bestselling Oxford Series continues with the poignant, heartwarming story of New York's most eligible bachelor, Lincoln Mathis, a man who's living a lie—until his dream woman takes away the pain.
Lincoln Mathis doesn't hide his reputation as Manhattan's ultimate playboy. In fact, he cultivates it. But behind every flirtatious smile, each provocative quip, there's a secret that Lincoln's hiding from even his closest friends—a tragedy from his past that holds his heart quietly captive. Lincoln knows what he wants: someone like Daisy Sinclair, the sassy, off-limits bridesmaid he can't take his eyes off at his best friend's wedding. He also knows that she's everything he can never have.
After a devastating divorce, Daisy doesn't need anyone to warn her off the charming best man at her sister's wedding. One look at the breathtakingly hot Lincoln Mathis and she knows that he's exactly the type of man she should avoid. But when Daisy stumbles upon Lincoln's secret, she realizes there's more to the charming playboy than meets the eye. And suddenly Daisy and Lincoln find their lives helplessly entwined in a journey that will either heal their damaged souls . . . or destroy them forever.
✩✮✩✮✩✮✩✮✩✮
Upcoming Releases: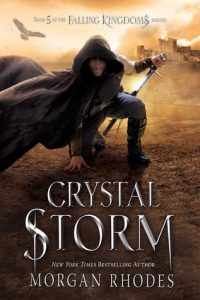 Crystal Storm (Falling Kingdoms #5) by Morgan Rhodes  (Releases 12/13)
The story continues!  In the first book, Falling Kingdoms, War brought them together. Love will tear them apart.  Princess Cleo of Mytica confronts violence for the first time in her life when a shocking murder sets her kingdom on a path to collapse. Once a privileged royal, Cleo must now summon the strength to survive in this new world and fight for her rightful place as Queen.
The King of Limeros's son, Magnus, must plan each footstep with shrewd, sharp guile if he is to earn his powerful father's trust, while his sister, Lucia, discovers a terrifying secret about her heritage that will change everything.
Rebellious Jonas lashes out against the forces of oppression that have kept his country cruelly impoverished—and finds himself the leader of a people's revolution centuries in the making.
Witches, if found, are put to death, and Watchers, immortal beings who take the shape of hawks to visit the human world, have been almost entirely forgotten. A vicious power struggle quickly escalates to war, and these four young people collide against each other and the rise of elementia, the magic that can topple kingdoms and crown a ruler in the same day.  → Chelsea's Review
✩✮✩✮✩
You can check out the rest of the books that we can't wait to release → HERE
✩✮✩✮✩✮✩✮✩✮
Sales:
$0.99
$1.99
$2.99
$3.99+
Freebies:
Save
Save
Save
Save
Save
Save
Save
Save
Save
Save
Save
Save
Save
Save
Save
Save
Save
Save
Save
Save
Save
Save
Save
Save
Save
Save
Save
Save
Save
Save
Save
Save
Save
Save
Save
Save
Save
Save
Save
Save
Save
Save
Save
Save
Save
Save
Save
Save
Save
Save
Save
Save
Save
Save
Save
Save
Save
Save
Save
Save
Save
Save
Save
Save
Save
Save
Save
Save
Save
Save
Save
Save
Save
Save
Save
Save
Save
Save
Save
Save
Save
Save
Save
Save
Save
Save
Save
Save
Save
Save
Save
Save
Save
Save
Save
Save
Save
Related Posts