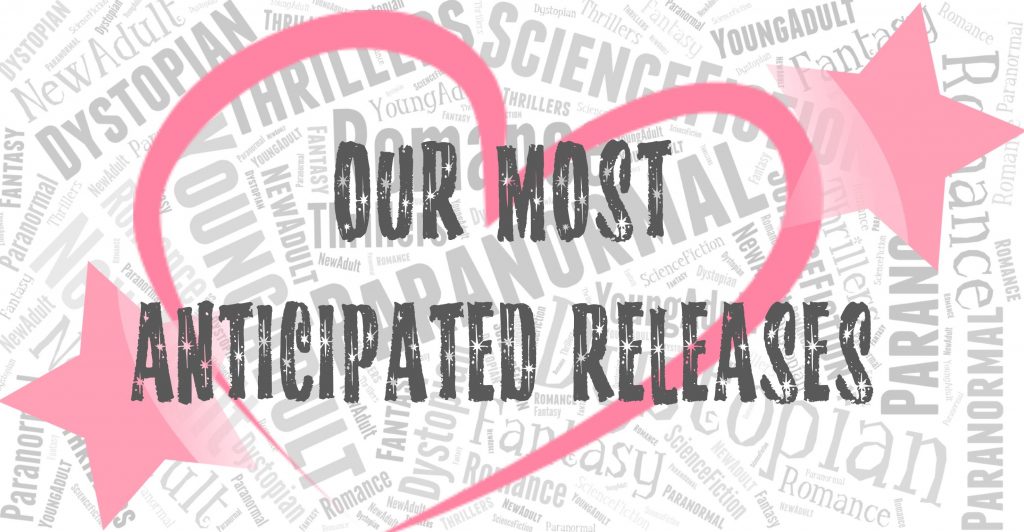 We love talking about books that we can't wait to read! And that includes the ones that haven't been released yet. So on the first day of every month we'll share with you the books coming out that month that we're the most excited about. There's a link to Goodreads in case you want to add them to your tbr too! So here are the books we are counting down until they are released in September.
Releases 9/05 – Black Bird of the Gallows by Meg Kassel
A simple but forgotten truth: Where harbingers of death appear, the morgues will soon be full.
Angie Dovage can tell there's more to Reece Fernandez than just the tall, brooding athlete who has her classmates swooning, but she can't imagine his presence signals a tragedy that will devastate her small town. When something supernatural tries to attack her, Angie is thrown into a battle between good and evil she never saw coming. Right in the center of it is Reece―and he's not human.
What's more, she knows something most don't. That the secrets her town holds could kill them all. But that's only half as dangerous as falling in love with a harbinger of death.
 ✩✮✩✮✩
Releases 9/05 – If There's No Tomorrow by Jennifer L. Armentrout
Lena Wise is always looking forward to tomorrow, especially at the start of her senior year. She's ready to pack in as much friend time as possible, to finish college applications and to maybe let her childhood best friend Sebastian know how she really feels about him. For Lena, the upcoming year is going to be epic—one of opportunities and chances. 
Until one choice, one moment, destroys everything. 
Now Lena isn't looking forward to tomorrow. Not when friend time may never be the same. Not when college applications feel all but impossible. Not when Sebastian might never forgive her for what happened. 
For what she let happen. 
With the guilt growing each day, Lena knows that her only hope is to move on. But how can she move on when her and her friends' entire existences have been redefined? How can she move on when tomorrow isn't even guaranteed?
 ✩✮✩✮✩
Releases 9/11 – Thunderstruck by Brenda Drake
Stevie Moon is famous…at least to the subscribers on her comic review vlog. At school, she's as plain as the gray painted walls in the cafeteria. So when Blake, the hot new guy at school, shows an interest in her, she knows trouble when she sees it. Been there. And never doing it again.
As the son of the god Thor, Blake Foster's been given an important mission—to recover the Norse god Heimdall's sacred and powerful horn before someone uses it to herald in the destruction of the entire universe. But while Blake is great in a fight, the battlefield that is a high school's social scene is another matter.
Blake knows his only choice is to team up with the adorable Stevie, but she's not willing to give him even the time of day. He'll need to woo the girl and find the horn if he hopes to win this war. Who better to tackle Stevie's defenses than the demi-god of thunder?
 ✩✮✩✮✩
Releases 9/12 – Warcross (Warcross #1) by Marie Lu
For the millions who log in every day, Warcross isn't just a game—it's a way of life. The obsession started ten years ago and its fan base now spans the globe, some eager to escape from reality and others hoping to make a profit. Struggling to make ends meet, teenage hacker Emika Chen works as a bounty hunter, tracking down Warcross players who bet on the game illegally. But the bounty-hunting world is a competitive one, and survival has not been easy. To make some quick cash, Emika takes a risk and hacks into the opening game of the international Warcross Championships—only to accidentally glitch herself into the action and become an overnight sensation.
Convinced she's going to be arrested, Emika is shocked when instead she gets a call from the game's creator, the elusive young billionaire Hideo Tanaka, with an irresistible offer. He needs a spy on the inside of this year's tournament in order to uncover a security problem . . . and he wants Emika for the job. With no time to lose, Emika's whisked off to Tokyo and thrust into a world of fame and fortune that she's only dreamed of. But soon her investigation uncovers a sinister plot, with major consequences for the entire Warcross empire.
 ✩✮✩✮✩
Releases 9/12 – Fireblood (Frostblood Saga #2) by Elly Blake
 Against all odds, Ruby has defeated the villainous Frost King and melted his powerful throne. But the bloodthirsty Minax that was trapped inside is now haunting her kingdom and everyone she loves. The answers to its demise may lie to the south in Sudesia, the land of the Firebloods, and a country that holds the secrets to Ruby's powers and past….
Despite warnings from her beloved Arcus, Ruby accompanies a roguish Fireblood named Kai to Sudesia, where she must master her control of fire in a series of trials to gain the trust of the suspicious Fireblood queen. Only then can she hope to access the knowledge that could defeat the rampaging Minax–which grows closer every moment. But as sparks fly in her moments alone with Kai, how can Ruby decide whom to trust? The fate of both kingdoms is now in her hands.
 ✩✮✩✮✩
Releases 9/12 – Nyxia (The Nyxia Triad #1) by Scott Reintgen
Emmett Atwater isn't just leaving Detroit; he's leaving Earth. Why the Babel Corporation recruited him is a mystery, but the number of zeroes on their contract has him boarding their lightship and hoping to return to Earth with enough money to take care of his family.
 
Forever.
 
Before long, Emmett discovers that he is one of ten recruits, all of whom have troubled pasts and are a long way from home. Now each recruit must earn the right to travel down to the planet of Eden—a planet that Babel has kept hidden—where they will mine a substance called Nyxia that has quietly become the most valuable material in the universe.
 
But Babel's ship is full of secrets. And Emmett will face the ultimate choice: win the fortune at any cost, or find a way to fight that won't forever compromise what it means to be human.
 ✩✮✩✮✩
Releases 8/01 – Before She Ignites (Fallen Isles Trilogy #1) by Jodi Meadows
From the New York Times bestselling co-author of My Lady Jane comes a smoldering new fantasy trilogy perfect for fans of Victoria Aveyard and Kristin Cashore about a girl condemned for defending dragons and the inner fire that may be her only chance of escape.
Mira has always been a symbol of hope for the Fallen Isles, perfect and beautiful—or at least that's how she's forced to appear. But when she uncovers a dangerous secret, Mira is betrayed by those closest to her and sentenced to the deadliest prison in the Fallen Isles.
Except Mira is over being a pawn. Fighting to survive against outer threats and inner demons of mental illness, Mira must find her inner fire and the scorching truth about her own endangered magic—before her very world collapses.
And that's all before she ignites. 
 ✩✮✩✮✩
Releases 9/19 – One Dark Throne (Three Dark Crowns #2) by Kendare Blake
With the unforgettable events of the Quickening behind them and the Ascension Year underway, all bets are off. Katharine, once the weak and feeble sister, is stronger than ever before. Arsinoe, after discovering the truth about her powers, must figure out how to make her secret talent work in her favor without anyone finding out. And Mirabella, once thought to be the strongest sister of all and the certain Queen Crowned, faces attacks like never before—ones that put those around her in danger she can't seem to prevent.
In this enthralling sequel to Kendare Blake's New York Times bestselling Three Dark Crowns, Fennbirn's deadliest queens must face the one thing standing in their way of the crown: each other.
 ✩✮✩✮✩
Releases 9/19 – Hunting Prince Dracula (Stalking Jack the Ripper #2) by Kerri Maniscalco
 Following the grief and horror of her discovery of Jack the Ripper's true identity, Audrey Rose Wadsworth has no choice but to flee London and its memories. Together with the arrogant yet charming Thomas Cresswell, she journeys to the dark heart of Romania, home to one of Europe's best schools of forensic medicine…and to another notorious killer, Vlad the Impaler, whose thirst for blood became legend.
But her life's dream is soon tainted by blood-soaked discoveries in the halls of the school's forbidding castle, and Audrey Rose is compelled to investigate the strangely familiar murders. What she finds brings all her terrifying fears to life once again.
 ✩✮✩✮✩
Releases 9/26 – An Enchantment of Ravens by Margaret Rogerson
A skilled painter must stand up to the ancient power of the faerie courts—even as she falls in love with a faerie prince—in this gorgeous debut novel.
Isobel is a prodigy portrait artist with a dangerous set of clients: the sinister fair folk, immortal creatures who cannot bake bread, weave cloth, or put a pen to paper without crumbling to dust. They crave human Craft with a terrible thirst, and Isobel's paintings are highly prized. But when she receives her first royal patron—Rook, the autumn prince—she makes a terrible mistake. She paints mortal sorrow in his eyes—a weakness that could cost him his life.
Furious and devastated, Rook spirits her away to the autumnlands to stand trial for her crime. Waylaid by the Wild Hunt's ghostly hounds, the tainted influence of the Alder King, and hideous monsters risen from barrow mounds, Isobel and Rook depend on one another for survival. Their alliance blossoms into trust, then love—and that love violates the fair folks' ruthless laws. Now both of their lives are forfeit, unless Isobel can use her skill as an artist to fight the fairy courts. Because secretly, her Craft represents a threat the fair folk have never faced in all the millennia of their unchanging lives: for the first time, her portraits have the power to make them feel.
 ✩✮✩✮✩
So these are the books we can't wait to be released this month! Are you excited about any of these releases too? Or is there a book we missed that we should definitely check out? Let us know. ♥
Save
Save
Save
Save
Related Posts