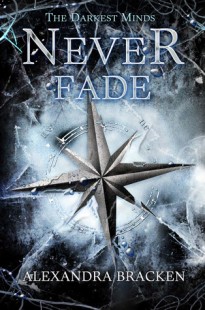 Never Fade (The Darkest Minds #2)
by Alexandra Bracken
Purchase on: Amazon, iBooks, 
Book Depository
Add to: Goodreads


*5 INCREDIBLE STARS!!*
This series has me hook line and sinker. Its just one of those books that just everything about it gives me the chills, when someone says Liam I automatically think of Liam in this series. When I think of dystopian this is the first I think of.
Alexandra Bracken, thank you a million times for making a story I will never forget. I'm not sure if I can wait for the third book, I just need to know what will happen next. All I can say for now is WELL DONE..
After the first book ending on a cliffy that literally ripped my heart out and made me cry so hard. I couldn't wait to see how all the characters was and every one was ok. I find this series so hard to write about just because I don't want to say too much. Everything that happened was so epic for me and maybe that's because I didn't read reviews before but everything just blew me away AGAIN!
Liam dear god that boy just kills me. I love him so, so, so much! I always get attracted to the bad boys and Liam is nothing like them. He is soft, caring and just really has his heart on his sleeve. He loves Ruby so much and their conversations in this book gave me goose bumps and tears in my eyes. They are one of a kind. Its so refreshing they don't get the usual teenage relationship drama. The things that happen with this young couple is brutal and heart breaking, you just need to know everything will be ok. It is angsty but in a different way.
"I look at you, and I just love you, and it terrifies me. It terrifies me what I would do for you."

What is it I loved so much?

Before writing a review I think about what stood out for me and made a book good or bad and with this one its soo many things. Firstly the writing is just, ugh, you cannot fault it, it flows so well nothing seems rushed even though it is a long book it never once feels like it is. The characters in both books have blown me away, I just love them all in different ways and they all stood out, the good and bad! Obviously Liam and Ruby's relationship was just beautiful. The romance was just gorgeous and even though we didn't get loads it was just enough and was so intense you looked forward to it and appreciated the parts you got more than if there was loads. The action was fact paced, thrilling and ridiculously exciting. I could go on and on but I actually cant put in to words how much I felt while reading this book and even now days after I'm still thinking about it.
"Don't go again," He whispered. "Don't go… Where I can't follow, please, please, not again…"
I must say a new character in this book I adored was Jude god that boy just killed me. He was someone you just wanted to protect and Mummy in a way but actually he was so strong and 100% just there for his friends. I loved him, nothing else to say!
This is a dystopian at its best and I just can't get enough!
"Later, gator." "In an hour, sunflower."
[insert page='z-reading-order-the-darkest-minds-the-darkest-minds-1-by-alexandra-bracken' display='content']
Related Posts