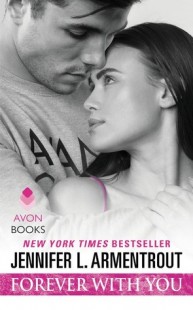 Forever with You
(
Wait for You #5
)
by
J. Lynn, Jennifer L. Armentrout
Purchase on:
Amazon
, 
iBooks
Add to:
Goodreads
Synopsis:

Some things you just believe in, even if you've never experienced them. For Stephanie, that list includes love. It's out there. Somewhere. Eventually. Meanwhile she's got her job at the mixed martial arts training center and hot flings with gorgeous, temporary guys like Nick. Then a secret brings them closer, opening Steph's eyes to a future she never knew she wanted—until tragedy rips it away.

Nick's self-assured surface shields a past no one needs to know about. His mind-blowing connection with Steph changes all that. As fast as he's knocking down the walls that have kept him commitment-free, she's building them up again, determined to keep the hurt—and Nick—out. But he can't walk away. Not when she's the only one who's ever made him wish for forever . . .
Review:
Forever With You was a story that was passionate, sultry, captivating and insanely seductive.  It was perfection in my eyes.  The charm and banter that filled the pages pushed this story to a new level of sexy that I desperately search for each time I open a book.  But you want to know the best part?  When I reached that final page, I was left feeling giddy and smiley despite the fact that I cried, a lot.  I'm still on a book high and Forever With You has officially become my favorite book in the Wait For You series!
Stephanie is the girl who had a physical relationship with the male characters from the first two books, Cam in Wait for You
and Jase in Be with Me.  She had attended college with that group of friends, but she wasn't close to any of them.  Since graduating from college, she got a new job and an apartment on all on her own.  From the first moment that Stephanie met Nick, sparks fly.  Their chemistry was raw, sexual and insanely hot!  It had me anticipating when they were going to hook up and the emotional roller coaster ride that was ensured afterwards!
More than once I'd been accused of being standoffish and bitchy.
The truth was, it wasn't that I was mean or unfriendly.  I just generally sucked at small talk with people I didn't know, and most important, I had a severe case of resting bitch face.
I. Loved. Stephanie!  She was confident (at times), wasn't afraid to defend herself, and underneath it all she was genuine and sweet.  But in all honesty, I didn't know what to think of her going into this book.  She seemed nice enough, but I kept picturing that scene where poor Teresa walks into Jase's room and Stephanie is standing there without her shirt on.  Teresa and Jase weren't together and Stephanie didn't do anything wrong, but I felt horrible for Teresa.  So starting this book, Stephanie was truly an unknown since I never once had a good grasp on her.  But by page 2, I knew that she was astounding!  Her swearing skills were impressive and I loved the way she interacted with Nick!  Smiles were ensured and I found myself easily feeling every single emotion that she felt.  And that made for an amazing experience!
"…..the fact that you think I came here looking for just you insinuates that I'm desperate.  The fact that you think you can get with me after speaking to me the way you did tells me you don't think very highly of me.  And after one night with me you think you can dictate to me where I can go and what I cannot do?  You must think I'm stupid."
His brows flew up. "Steph-"
"Don't." I lifted a hand, stopping him.  My middle finger might have been extended as I stepped around him and snatched my purse.  "This conversation ends with a – how about you go fuck yourself."
Nick was charismatic, charming, dark, sultry, sexy, and had a tortured past.  Sigh.  He could also go from being thoughtful and caring to the biggest ass on the face of the planet.  Nick was everything that I always want to lust after in a book boyfriend.  He was the type of man whose actions and words could be the polar opposite.  One moment he was doing something that made you want to sigh out loud and grab him by the shirt and kiss him and then in the next moment his words could be like a slap across the face.  He was a fun puzzle to figure out and I enjoyed every single moment trying to learn who Nick was.  And I know that Nick is a character that is going to stick with me for a very long time because he had that profound of an impact on me.  There was so much depth to him.  And when we got to see every single part of him, the good and the bad, it was impossible not to love the whole package.  He truly was a beautiful person, jackass and all!
His hand lingered in the space between us and then he cupped my cheek.  The move startled me as he dragged his thumb under my lip.  "It's really a shame."
I frowned.  "What is?"
"Us," he said, his voice low as his thumb made another sweep, and my breath caught. "That you and I are the way we are.  It's a damn shame."
So YES I loved this book!  It was truly stunning!  I just wanted to run around my house jumping and laughing because this book was so much of everything I always want.  Give me a heroine who I will love, give me a tortured man who will steal my breath away, give me fiery chemistry, give me a story that is all-consuming and I will fall in love with every single page.  And that I did!
***ARC was kindly provided by the author, at the San Fran Golden Gate Event, in exchange for an honest review***
Save
Save
Related Posts