Top Ten Tuesday is a weekly meme hosted by The Broke and the Bookish, and this is our first time joining in on the fun!
This week is – Favorite Authors We Read For The First Time In 2015.
1.  Lauren Layne
– I've read 9 of her books so far this year, and they have all been 4.5/5 Stars!  They are sexy yet sweet, the banter is hilarious, the friendships are heartwarming, and all of the characters are so unique and amazing.
2. Theresa Kay
– These are the type of Science Fiction books I fall madly in love with!  They contain peril, heartbreak, action, lies, betrayal, love. and are addicting!
3.  Mark Lawrence
– That little devil of Jorg of Ancrath quickly became one of my favorite heroes of all times (don't judge me) – dark fantasy at its best.
4.  Cat Winters
– She shows a real talent to convey an atmosphere and to write in an engrossing and compelling way about such important issues – her books are definitely not to be missed.
5.   T.L. Haddix
– There is something to say about an author who manages to create romance novels without giving into the awful tropes I hate, such as slut-shaming, drama llama, and abusive relationships.
6. Miranda Kenneally
– This book touched me like no other YA Book ever did.
7. V. E. Schwab (Victoria Schwab)
– I've seen someone saying Victoria Schwab's writing is off the charts, and I can't emphasize enough how right they were. My new goal is to get my hands on all of her other books as fast as I can.
8. Courtney Summers
– They are beautiful and profound and they aren't your every day drivel and formula we all have memorized and rehearsed-they actually have strong messages that give you feels in ways you never imagined possible. She expands your mind to a point you didn't even realize existed.
9. Linda Kage
– These books were sexy and fun, and the inner dialogue and quirky humor were perfection!
10. Barry Lyga
– Tortured souls are what really draws me in, and Jazz was was one of the reasons why I loved these books so much!  They were different, intriguing and beyond addicting!
These are our "New-To-Us Favorite Authors We Read For The First Time In 2015".   What are some of yours?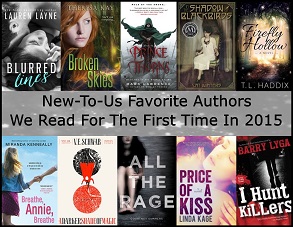 Save
Related Posts