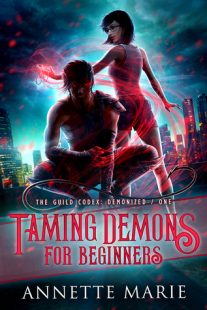 Annette Marie
(
The Guild Codex: Demonized #1
)
by
Annette Marie
Purchase on:
Amazon
Add to:
Goodreads
Synopsis:

Rule one: Don't look at the demon.

When I arrived at my uncle's house, I expected my relatives to be like me—outcast sorcerers who don't practice magic. I was right about the sorcery, but wrong about everything else.

Rule two: Don't listen to the demon.

My uncle chose a far deadlier power. He calls creatures of darkness into our world, binds them into service contracts, and sells them to the highest bidder. And I'm supposed to act like I don't know how illegal and dangerous it is.

Rule three: Don't talk to the demon.

All I had to do was keep my nose out of it. Pretend I didn't find the summoning circle in the basement. Pretend I didn't notice the shadowy being trapped inside it. Pretend I didn't break the rules.

But I did, and now it's too late
Review:
Taming Demons for Beginners was a ton of fun, action packed and impossible to put down. Just from that first chapter I was hooked and I screamed out loud best chapter ever! Oh my gosh you guys, Annette Marie knows how to pull you in and continually have you begging for more. The storyline was addictive, the characters lept from the pages and she created a world I never wanted to leave. This book is for everyone out there that loves to say just one more chapter, and then before you know it you've finished the whole book. In one day.
Adrenaline flooded my body. Panic screeched in my head, but I couldn't move. Frozen like a rabbit in the wolf's teeth, I stared at him in horror.
He held my fingers in a tight grip, then pulled.
I loved Robin. She always seemed to be baking or have her nose in a book, and those are my two favorite things! Robin was such a sweet girl with a huge heart. But she could be shy and timid, and my heart hurt for for her. Robin had moved in with her Uncle, after her parents passed away. She was told to avoid magic, but her Uncle was swirling in it. He summoned demons and created contacts with them. That was extremely illegal. All Robin had to do was mind her own business and stay away from the demon that was trapped in his library. But who knew just how impossible that would become.
"Payilas." His whisper demanded my answer.
"Protect me."
The demon, ohhhhh I was obsessed with him right away. I probably shouldn't like someone who was supposed to be a killer, but Zylas had me deep in his clutches. I was fascinated learning everything I could about him. His words and mannerisms cracked me up, even though he wasn't trying to be funny. He didn't understand so many things like what a tv was to blushing. So it felt like he was from a different world, but at the same time, there was so much Robin didn't understand either.
"What do you want?" My arm was on fire, blazing with agony, and I didn't understand his question. My crumbling composure gave way.
"I don't want to die," I sobbed, shaking and gasping.
I loved watching Robin and Zylas learn about each other. They were worlds apart and their misunderstandings had me laughing out loud. Even when it was a serious moment, you couldn't knock the smile off of my face at times. But Robin grew so much in this story, and it felt like it was because of Zylas. And Zylas, well I can't talk much about him, but I loved watching them both evolve as the story unfolded.
I'd known full well that Zylas was a risk to everyone around me.
I'd known, and I'd ignored the danger.
Hold on because this book had heart pounding action that had me on the edge of my seat. There were intense moments that were life or death. Some of them I never even saw coming, so I gasped or screamed out loud. And when the pieces to the puzzle finally started to fall into place, it was terrifying. Deadly. This book truly had it all.
Kill them all, I thought as clearly as I could. The first chance you get.
His tail twitched, his stare boring into mine. The connection between us burned hot, an invisible thread that bound our fates together. Crimson light glowed across his fingers and the semi-transparent talons that tipped them. His tail slid slowly across the pavement. The twenty yards between us yawned even wider.
There were side characters I desperately want to talk about, but it's best not knowing anything about them. All I can say is I somehow got attached to one of them and I'm happily shocked I did. And while I didn't read the other series this one is linked to, you don't need to, it stood on it's own. But I'll definitely be picking it up! So yes, I recommend this book! With magic swirling through the pages and characters that I absolutely loved, I can't wait to see what happens next.
"In my world," he said unexpectedly, "there is a type of … tree."
I faced him again, my brow furrowed in puzzlement.
"On the tree, it grows small …" He cupped his hands as though holding something. "… small fruits. The outside is poisonous, deadly, but inside is juicy and sweet. We fight over these trees. I have killed to take the fruit when it is ripe."
He picked up another s'more cookie. "These are better."
PS I'd love to know the recipes Robin made, they sound delicious! Especially the marshmallow-stuffed s'more cookies! YUM!
About Annette Marie:
Annette Marie is the author of Amazon best-selling YA urban fantasy series Steel & Stone, its prequel trilogy Spell Weaver, and romantic fantasy trilogy Red Winter. Her first love is fantasy, but fast-paced adventures and tantalizing forbidden romances are her guilty pleasures. She lives in the frozen winter wasteland of Alberta, Canada (okay, it's not quite that bad) with her husband and their furry minion of darkness—sorry, cat—Caesar. When not writing, she can be found elbow-deep in one art project or another while blissfully ignoring all adult responsibilities.
Giveaway:
a Rafflecopter giveaway
Related Posts
I absolutely loved this book! So check out my 5 Star Review below and enter a fabulous giveaway. Enjoy!