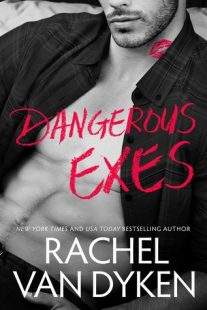 Dangerous Exes
(
Liars Inc. #2
)
by
Rachel Van Dyken
Purchase on:
Amazon
, 
Book Depository
Add to:
Goodreads
Synopsis:

Isla made one teeny little mistake. Now she and her PI company, Dirty Exes, are being targeted by one seriously angry and furiously sexy ex-quarterback. Jessie freakin' Beckett. But there's no way some NFL superhunk is going to take her business away. If only he didn't make her so hot—and bothered.

Jessie wants payback for a ruined reputation. His plan? Top secret. His hard-to-hide arousal for Isla? Not so much. Especially when they let down their guards and sneak a kiss. Like any juicy scandal, it goes so viral, so fast, that only a good lie can combat the bad press. Mortal enemies in a fling? No way. Um…this is love!

Actually…could it be?

Isla's not faking it. Jessie can't. As the game of let's pretend gets real, Jessie forgets all about revenge. That's the problem. His plan is already out of his control. Now it could undo everything they've been trying to build. Coming clean may be the only thing that can save it.
Review:
Dangerous Exes was a ton of fun, hilariously addicting and oh so sexy!  I have been excited for this book since I finished reading the last page of Dirty Exes!  I'm happy to say that I loved this book just as much as the first! Revenge, lust, friendship and romance filled this story along with my favorite thing of all, enemies to lovers.  So if you're a fan of romance stories that have love to hate in the pages, then you definitely have to pick this one up.
"You're a good kisser, Isla." He tilted my chin toward him. "But it's not enough— I will shut you down, that I promise."
He walked off leaving me hot, breathless, and pissed.
I opened my car door and tossed my purse in the opposite seat, then pressed my fingertips against my lips and cursed the universe for doing the impossible. Making me feel alive again— by way of my enemy.
If you haven't read Dirty Exes yet, I highly recommend you do (here's my review).  Everything started in that book and it continued to play out in this one.  So going into this story, I already liked Isla Turner and Jessie Beckett.  Towards the end of Dirty Exes they were slowly becoming friends and there was even chemistry between them, but that all changed.  Jessie's life went up in smoke and he set his sights to destroy Isla's PI business. Just like she destroyed his life.
I hated his smirk more than I hated his body.
Because it made me react.
Hell, everything he did made me react and want to seek vengeance with a fiery purpose on his damned soul.
I couldn't help but laugh when Jessie showed up wherever Isla was.  He infiltrated her life and it started to drive her crazy. But when a kiss happened between them and it became public, because of Jessie's high profile life, things shifted.  Jessie was still trying to accomplish his goal, Isla was fighting back, yet now there were kisses and touches between them.  I loved how they toyed with each.  I loved the games they played. But I loved the passion between them the most.  It was crazy addicting and created so many explosive scenes bursting with sexual tension.  
She grinned excitedly, then took a deep sip and moaned as she closed her eyes. "You know me well."
I'm sure she didn't mean to say it.
Just like my heart didn't mean to react to the words.
My body felt warm all over as her eyes met mine.
I cleared my throat and looked away while she returned her attention to the game.
No matter how hard Jessie wanted to hate Isla, he couldn't ignore what was between them.  And Isla couldn't deny that she was attracted to Jessie and that he made her feel things. Oh I loved the both of them so much!  Jessie was seductive and controlling, yet he showed us more  sides of him. We learned his deepest, darkest secrets and it made me fall for him that much harder.  Isla was also controlling but she had this energy to her that was addictive. She probably got it from her great aunt, Goo-Pah.  That woman was hilarious and she made me laugh so hard I cried.
Maybe my view of perfection was wrong— had been wrong all along.
It wasn't the perfect house.
The perfect wife.
It wasn't the perfect life or career.
It was moments like this, with a woman I would never understand or deserve, lying on my lap asleep, and me wishing I could hold on to the seconds a little bit longer.
Desire and lust swirled between Jessie and Isla anytime they were near each other.  With emotions and feelings mixing into the moments too, I was obsessed. And you couldn't tear me away from this book!  If it's not completely obvious, I absolutely loved this book and that ending! I've realized that every single time I pick up a book by Rachel Van Dyken my spirits are always lifted.  Her stories are feel good, heartfelt and continually make me smile and laugh. So I can't wait to read whatever Rachel Van Dyken publishes next!
*I voluntarily read and reviewed an advanced copy of this book, provided by the publisher, Skyscape. All thoughts and opinions are my own.*
Related Posts