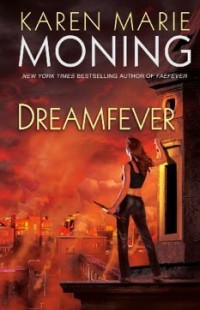 Dreamfever
(
Fever #4
)
by
Karen Marie Moning
Purchase on:
Amazon
, 
iBooks
, 
Book Depository
Add to:
Goodreads
Synopsis:

MacKayla Lane lies naked on the cold stone floor of a church, at the mercy of the erotic Fae master she once swore to kill. Far from home, unable to control her sexual hungers, MacKayla is now fully under the Lord Master's spell.…In New York Times bestselling author Karen Marie Moning's stunning new novel, the walls between human and Fae worlds have come crashing down. And as Mac fights for survival on Dublin's battle-scarred streets, she will embark on the darkest—and most erotically charged—adventure of her life.

He has stolen her past, but MacKayla will never allow her sister's murderer to take her future. Yet even the uniquely gifted sidhe-seer is no match for the Lord Master, who has unleashed an insatiable sexual craving that consumes Mac's every thought—and thrusts her into the seductive realm of two very dangerous men, both of whom she desires but dares not trust.

As the enigmatic Jericho Barrons and the sensual Fae prince V'lane vie for her body and soul, as cryptic entries from her sister's diary mysteriously appear and the power of the Dark Book weaves its annihilating path through the city, Mac's greatest enemy delivers a final challenge.…

It's an invitation Mac cannot refuse, one that sends her racing home to Georgia, where an even darker threat awaits. With her parents missing and the lives of her loved ones under siege, Mac is about to come face-to-face with a soul-shattering truth—about herself and her sister, about Jericho Barrons…and about the world she thought she knew.
Wow, hello, awesome book!

Where we stayed : in a King Size bed (yeah, I know, I know), an abbey ruled by a dumb bitch, a bus full of guns, a Fairy jungle hidden in the road, a hopeless cell, an asshole head (Now,that was pretty great), near dangerous cactus, in a circle of pee (yeah, I know, I know (2))… Mostly in Dublin.

Best part of the book : Emergence of Mac.4 Finally, the girl realizes that if everybody has an agenda, she has to follow hers. Whatever it takes.

Coolest thing we saw : Anytime Mac keeps the Alpha-Male in their place/fights like crazy/writes cool stuff in her journal like "Kick their fecking asses off our world!" (What? I was tired of the petunias)

Best food of the day : I'm not sure. Do they eat in this book? Wait, Unseelie? I miss V'lane's chocolate that doesn't make us gain weight.

Worst asshole comment : (What? These books are full of it, right?)
My Kindle just erased the quotes I had underlined. I might throw it on the wall after reading Shadowfever
(more) details?
– Characterization : Brilliant. All the characters are multi-layered, captivating, and make me feel both strong and mixed feelings. Yes I can't bring myself to make excuses for Barrons' sexually offensive behavior (no, that's not okay for me, I don't care if she's Pri-ya, grow some restraint, asshole – and SHUT UP about it, what's with the rape jokes? Seriously? Dude, you made me rage), yet that does not mean I'm not able to enjoy the excellence of his characterization and be captivated by his wicked way of thinking. I. am. In. Awe. of Karen Marie Moning for having created such riveting and complex characters – we're lost in a blur, where Good and Evil are vain boundaries which don't make any sense, and hell yeah I loved that.
– Plot & world-building : What a gripping story! I feel like I can't get enough of this world and I adore the way KMM constantly surprises me. Each time I think I know where the story's going I end completely stunned and that's a wonderful feeling for sure!
To be continued… In Shadowfever
Reading Order & Links:


Amazon

(click on covers),

iBooks (click on titles) & Book Depository (click on book #)

Darkfever #1
Reviews:
Jen
Chelsea

Bloodfever #2
Reviews:


Faefever #3
Reviews:
Jen
Anna

Dreamfever #4
Reviews:
Jen
Anna

Shadowfever #5
Reviews:
Jen
Chelsea
Anna

Iced #6

Burned #7

Feverborn #8
Related Posts