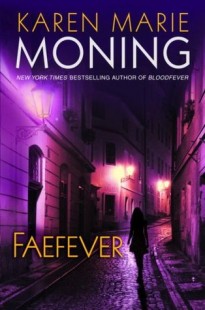 Faefever
(
Fever #3
)
by
Karen Marie Moning
Purchase on:
Amazon
, 
iBooks
, 
Book Depository
Add to:
Goodreads
Synopsis:

He calls me his Queen of the Night. I'd die for him. I'd kill for him, too. When MacKayla Lane receives a torn page from her dead sister's journal, she is stunned by Alina's desperate words. And now MacKayla knows that her sister's killer is close. But evil is closer. And suddenly the sidhe-seer is on the hunt: For answers. For revenge. And for an ancient book of dark magic so evil, it corrupts anyone who touches it.

Mac's quest for the Sinsar Dubh takes her into the mean, shape-shifting streets of Dublin, with a suspicious cop on her tail. Forced into a dangerous triangle of alliance with V'lane, an insatiable Fae prince of lethally erotic tastes, and Jericho Barrons, a man of primal desires and untold secrets, Mac is soon locked in a battle for her body, mind, and soul.

As All Hallows' Eve approaches and the city descends into chaos, as a shocking truth about the Dark Book is uncovered, not even Mac can prevent a deadly race of immortals from shattering the walls between worlds—with devastating consequences.…
Tell me …
What enraptured me in Faefever was the fact it was waaay darker than the first twos. Excuse me when I'm doing a little dance before travelling to …
… Dublin.

Okay, so, what was I saying? Ah, yes, welcome to the dark side! Dublin's turning into such a dreadful place, I'm telling you! With the expansion of the Dark Zone, the number of Unseelie which has been increasing since the beginning of Darkfever, the multiplication of assholes … It started to really get my goat, and that's freaking great.
"Fae are monsters. But we humans hold our own. Fae might have incited this […], but we were the ones keeping it alive."
Indeed while I really liked the first books they remained only entertaining, that is to say, enjoyable but not loveable : I was interested, hooked even, but I wasn't completely emotionally invested. As I already said several times, a book filled with flaws can be part of my favorite, as long as it makes me feel. As fucking great a book can be, if I have a hard time connecting with the characters and even more, feeling all the trouble they're being put through, I'm not fully won.


On this matter, Faefever did a lot better than the first twos.
First of all, I loved Mac. Because I loved Buffy, and some sides of Mac remind me of her – Remember Buffy's personality in the first seasons? She didn't want to fight for others. She wanted to go to prom, for Pete's sake! Indeed I always struggle to believe that people can be willing to save the world as soon as they're asked for it. I mean, of course that's an awful responsibility to take! Do you really think you would agree right away? If so, congratulations, you're such a better person than I am!
So, Mac said it clearly : she doesn't want to be the world's savior. She wants revenge. And yet, little by little, she takes the job, because something has to do it you know? Now this evolution is believable.
"Lambs to the slaughter. My people."
Moreover, do you know what I admire about her? She doesn't trust anyone. She makes deals. She lies. She betrays. Why do I love such bad behavior? Because she fucking needs it! I mean, after all these books where heroines give their trust faster than I spell the word, I can't help but strongly appreciate the fact she's not dumb enough to forget herself in the name of lust love. She fights, and her evolution since Darkfever is truly amazing. Plus, the MacHalo thing? Loved that.
Yeah, Barrons hadn't growing on me a bit and I'm pretty sure I won't change my mind, because I don't think he could do something to redeem himself in my mind. This being said, I can't deny the fact his characterization is amazing : He is a fascinating character – a fascinating bastard, but still captivating and multi-layered to the core. Overall, I loved when he was punched, I don't want to see him happy, I don't like him, I'm pretty sure I hate him, but he kept me interested. Go figure.
Furthermore, I must confess that trying to read between the lines to discover who lies beneath the jerk face delighted me more than a police investigation. Don't get me wrong, no matter what I'll find it never will be an excuse for his behavior but I'm beginning to consider writing a journal about all my assumptions – even if one of them takes over the others for now.
I won't talk about the plot, first because I'd spoil you, and secondly because I'd repeat myself, finally because I want to start Dreamfever now : fascinating…. something-something…. well-wrapped… something-something… intriguing…. something-something… I want more!
See you for Dreamfever.
Reading Order & Links:


Amazon

(click on covers),

iBooks (click on titles) & Book Depository (click on book #)

Darkfever #1
Reviews:
Jen
Chelsea

Bloodfever #2
Reviews:


Faefever #3
Reviews:
Jen
Anna

Dreamfever #4
Reviews:
Jen
Anna

Shadowfever #5
Reviews:
Jen
Chelsea
Anna

Iced #6

Burned #7

Feverborn #8
Related Posts