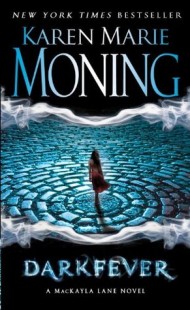 Darkfever
(
Fever #1
)
by
Karen Marie Moning
Purchase on:
Amazon
, 
iBooks
, 
Book Depository
Add to:
Goodreads
Synopsis:

MacKayla Lane's life is good. She has great friends, a decent job, and a car that breaks down only every other week or so. In other words, she's your perfectly ordinary twenty-first-century woman. Or so she thinks…until something extraordinary happens.

When her sister is murdered, leaving a single clue to her death–a cryptic message on Mac's cell phone–Mac journeys to Ireland in search of answers. The quest to find her sister's killer draws her into a shadowy realm where nothing is as it seems, where good and evil wear the same treacherously seductive mask. She is soon faced with an even greater challenge: staying alive long enough to learn how to handle a power she had no idea she possessed–a gift that allows her to see beyond the world of man, into the dangerous realm of the Fae….

As Mac delves deeper into the mystery of her sister's death, her every move is shadowed by the dark, mysterious Jericho, a man with no past and only mockery for a future. As she begins to close in on the truth, the ruthless Vlane–an alpha Fae who makes sex an addiction for human women–closes in on her. And as the boundary between worlds begins to crumble, Mac's true mission becomes clear: find the elusive Sinsar Dubh before someone else claims the all-powerful Dark Book–because whoever gets to it first holds nothing less than complete control of the very fabric of both worlds in their hands….
Review:
There is a good chance that I may become slightly obsessed with this series. Why? Because of our protagonist, Mac, and the intricate story that unfolds. Mac has this way of slowly reeling you into caring for her. Before I knew it, I was right alongside her feeling every bit as anxious and confused while the craziness swam around us. Because what started out as a trip to discover who murdered Mac's sister, turned into a story that was filled with rich history and mysteries at every turn. Be careful, because before you know it, Darkfever's suspenseful, sarcastic, page-turning story could suck you right in too!
Before, I thought I knew everything. I thought I knew who I was, where I fit, and exactly what my future would bring. Before, I thought I knew I had a future. After, I began to discover that I'd never really known anything at all.
The story starts out with Mac receiving a call that her sister has been murdered while studying abroad in Ireland. Upon facing the horrors of having to identify her mutilated body, Mac is convinced that she has to set matters right. She will go to Irelend and push the police to solve her sisters murder. But upon arrival, "things" keep interfering with her ability to move ahead. She starts to see evil, disgusting creatures that were just human a second ago, she hears words she doesn't understand, she finally discovers a horrifying message from her sister on her phone, and she meets a man that pulls her deeper into the twisted world of the Fae. Or as I like to put it….the story becomes more and more addicting as we discover random pieces of the puzzle.
"I tend bar. I like music. My sister was murdered recently. I seem to have gone insane since then," I added this last almost conversationally.
Mac is, ha, well, Mac is someone you would not expect. She is a 22 year old girl who loves her pink fingernail and toenail polish, dressing stylish and keeping herself bronzed and beautiful. YET the internal Mac is the polar opposite. She is sarcastic. She is witty. And most importantly she is determined! As each chapter progressed and the more I learned about Mac, I shockingly went from meh to I-love-this-girl! It also helped that she tries her damnedest to stand up to Barrons. Because she was 100% correct when she said he was a dickhead!
He just didn't look like the kind of creep that would messily murder a woman in her hotel room; he looked like the kind of creep that would line her up in the sights of his assassin's rifle without a shred of emotion.
Jericho Barrons, aka Barrons, is an ass. He is not what I wanted for the main male, but shoot me now…..I like trying to hate him! I know, so, so, so wrong! As I was saying, he is an ass, his proper talk is annoying as hell, his lack of compassion makes me want to cause him physical harm and I loath how he calls Mac Ms. Lane. Yet……and I hate this yet……..he is perfect for this book. I liked that he tries to help Mac find her sister's murderer, despite his screwed up ways and selfish reasons. I loved how Barrons is a huge mystery since we don't really know who and what he is. I have three guesses, but it's driving me crazy that I can't solidify any one of my theories!
You want to believe in black and white, good and evil, heroes that are truly heroic, and villains that are just plain bad, but I've learned in the past year that things are rarely so simple. The good guys can do some truly awful things, and the bad guys can sometimes surprise the heck out of you.
Although I was a little slow to warm up to Darkfever, I can't wait to fly through the rest of this series. I'm hoping that an element that is introduced to us in the first book continues! Mac talks to us and she would point out something that would affect her later on, or explain how she was oblivious to the current situation. I loved how that read and how that pulled me into the story even more! But I I do have one small issue with this book and that is in regards to V'lane, an alpha Fae who makes sex an addiction to human women, and the scenes that contain him and Mac. They rubbed me the wrong way View Spoiler »I'm not a fan of sex manipulation. Trying to manipulate someones thoughts and feelings into having sex with you? I don't see it as sexy at all. I see it as rape. « Hide Spoiler and I'm hoping that will somehow become resolved in future books or my mind.
Reading Order & Links:


Amazon

(click on covers),

iBooks (click on titles) & Book Depository (click on book #)

Darkfever #1
Reviews:
Jen
Chelsea

Bloodfever #2
Reviews:


Faefever #3
Reviews:
Jen
Anna

Dreamfever #4
Reviews:
Jen
Anna

Shadowfever #5
Reviews:
Jen
Chelsea
Anna

Iced #6

Burned #7

Feverborn #8
Related Posts