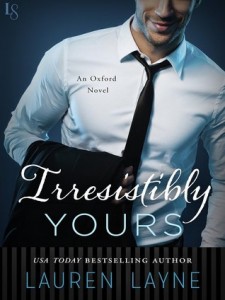 Irresistibly Yours
(
Oxford #1
)
by
Lauren Layne
Purchase on:
Amazon
, 
iBooks
Add to:
Goodreads
Synopsis:

Meet the men of Oxford magazine! In the first captivating spin-off of Lauren Layne's Sex, Love & Stiletto series, a not-so-friendly battle of the sexes turns into a scorching office romance.

Hotshot sports editor Cole Sharpe has been freelancing for Oxford for years, so when he hears about a staff position opening up, he figures he's got the inside track. Then his boss drops a bombshell: Cole has competition. Female competition, in the form of a fresh-faced tomboy who can hang with the dudes—and write circles around them, too. Cole usually likes his women flirty and curvy, but he takes a special interest in his skinny, sassy rival, if only to keep an eye on her. And soon, he can't take his eyes off her.

Penelope Pope knows all too well that she comes off as just one of the guys. Since she's learned that wanting more usually leads to disappointment, Penelope's resigned to sitting on the sidelines when it comes to love. So why does Cole make her want to get back in the game? The man is as arrogant as he is handsome. He probably sees her as nothing more than a barrier to his dream job. But when an unexpected kiss turns into a night of irresistible passion, Penelope has to figure out whether they're just fooling around—or starting something real.
Cole frowned, his eyes moving around the room until they met Penelope's. He lifted an eyebrow as though to ask Do you know what's going on here?
Julie leaned toward Penelope with a knowing look on her face.
"Betcha Cole's kisses are better than nice," she said quietly.
"I wouldn't know," Penelope responded.
"Oh, but you will," Julie said confidently, as she sat back and sipped her wine. "You will."
What a fool I am. A total moron. A real Magoo. It's no surprise to anyone, apparently only me, that I loved yet another LL. Oh, hey, let's play a game. I know for a fact that, even while I am trying to keep this review short and simple since I wrote a long, gushing review last week for her amazing Steal Me book, that I am going to be saying my favorite author's name, like, fifty times. So, I propose that I should exchange her name for a different word. That way, for those people who consistently read my reviews, no one will have to damage their eye sockets as they roll their eyes repeatedly at the constant mention of LL's name. Sooooo…..what word should I use?? Hmm. I think I'll go with puppy. I don't know why. *cough I totally know why *cough. Dogs sitting next to me *cough Phew. Had something in my throat. Anywaaaaaaay…my point?? As if this wasn't yet another win:
Shocker.
"Ah, the cute brunette who's gunning for your job."
"Not my job yet," Cole grumbled. "Unless you two know something…."
Lincoln held up his hands. "Dude, believe me, I've tried. Cassidy's tight-lipped on this one."
"Tight-lipped about what?"
Cole didn't even have to turn around to know that Cassidy was standing in the doorway.
"Is this what you guys do all day?" Cole asked the group. "Just loom around other people's office doorways and eavesdrop?"
I think my biggest fear with these stories is the continuance of character worlds. I know. Weird. But I've said it before and I'll say it again: I don't continue series if they aren't about the same person/couple. I can't commit to that type of relationship, if you will. I'm like… *light bulb goes off I'm just like Cole!! I don't 'do' commitment for series that change hands every book. But, for whatever reason, my girl, puppy, gets me. The stories puppy writes are out of this world addicting, even if we've seen such stories done before. And, as I've mentioned in many of my past reviews concerning puppy books, even if it's the most cliché storyline, she manages to make it…not…cliché. Oh shut up-like you're all wordsmiths.
"Thanks for the kiss," Penelope called playfully after Lincoln. "I think head-holding is definitely-"
She broke off when she saw Alex Cassidy standing in the doorway. His expression gave away nothing, but there was no way he hadn't heard her loudly thanking her colleague for a kiss.
Penelope felt a blush rise to her cheek as their boss looked around at the four of them.
"We were, ah, doing some research," Lincoln said, scooting by Cassidy.
Jake followed Lincoln, holding up his left hand innocently as he did so. "Didn't touch her. I'm married."
Cassidy narrowed his eyes at the two men before shifting his attention back to Penelope, then to Cole.
Then he merely rolled his eyes and walked away.
-okay, can you tell I'm obsessed with Cassidy? Lmao Because I so am.
And, just for clarity's sake, I will say this again, because obviously not everyone will read all of my reviews or even remember what I said: Even if you are in the mood to be in one of her other worlds, or are obsessed with a certain hero in a previous work (hey…that's totes me at all times) of hers, she makes you straight up forget. Or, rather, she makes you not care. And I won't elaborate further, just know that even if you doubt her…don't. Just….don't. She-who-will-not-be-named is amazing. And I am always in awe of her.
Cassidy sighed. "Would you just sit down so we can do this damn interview?"
Cole eyed the door. "Do we have to do it now? You seem like you're in a shitty mood."
"Of course I'm in a shitty mood," Cassidy said, running a hand through his hair. "You just interrupted that woman's interview. She could sue us."
"Please," Cole said with a scoff. "She wanted to go to coffee with me."
"Only because she doesn't know you," Cassidy muttered.
"Yup, you're definitely in a shitty mood. Maybe we should reschedule-"
"Sit," Cassidy commanded.
Now, Cole is not a character I ever gave much thought to. Sure, he always made me laugh, and he was always a great friend, but I always had trouble imagining him with his own book. Yeah…I know. I'm weird like that. *sighs But, anyway, my point is: I wasn't that….optimistic about what would come from this book. But, alas, puppy took my doubts and turned them to dust. As she usually does. Not only did I fall in love with Cole, laugh with Cole, swoon for Cole, bite my damn lip for Cole….he became one of my absolute favorite puppy male leads.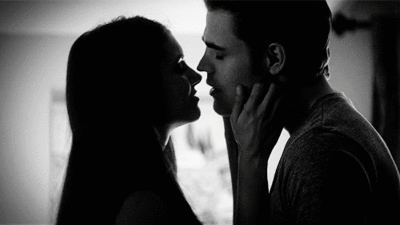 He held fast, refusing to move. "The thing is, Tiny….When it comes to you, I don't have to decide. I don't have to stop and think about if I want to kiss you. I know. I know every damn day when I see you put on mascara in the reflection of your computer moniter because you forgot to do it at home. I know when we go get coffee together and you can recite every single thing that happened on ESPN the night before. I know when I share my French fries with you at lunch and you eat all of them. I know-"
And, more than that, he fit so seamlessly into the Stiletto/Oxford world with those characters that I couldn't have imagined him without a story intertwined with all my past favorites: Alex Cassidy, Mitchell, Jake, Sam, Julie, Grace, Emma, and Riley. See? I didn't even falter. Those names??? Engrained in my mind 4-eva. This series is dear to me, so seeing a spin-off makes me…queasy, to say the least. But like usual, I'm eating crow and adding yet another puppy favorite to my list. It's getting sickening. Really. All these feathers in my teeth are starting to make me gag.
He tilted his head and kissed her, and then lingered. And tried very hard to ignore the sudden, forbidden thought that he wished every day could be exactly like this one.
Penelope, while adorable and actually pretty relatable, wasn't my favorite heroine. She had serious self-image issues and would degrade herself in front of people repeatedly.
"You are so out of my league," she said, scraping her nails over his bare chest.
His eyes slitted. "Not from where I'm sitting," he said, his voice husky.
I can't say it bothered me that much, but I have to say this so that my friends who might (will) find this annoying (you know who you are) can avoid this or start it with eyes wide open. In fact, I actually find that I've always been that way. So, to me, this was relatable. But that doesn't necessarily make that a good thing-I remember the looks on people's faces as I would down myself openly or when I would downplay a compliment they paid me. It's not cute, but I still can't find it in myself to be annoyed by Penelope in this manner-it's just too like myself to bash. She was sweet, innocent, cute, quirky, and utterly kind at all times…and I found it truly refreshing. This is what I'm talking about, though: Each character puppy creates is individual and so different than the last and I never once find myself saying, 'Hasn't she written this character before?' And believe me, I've read all her works.
"But I am in an extra good mood," she was saying. "Edgar's alive."
"Come again?" he said, following her into the living room where the TV blared the Boston/Toronto game. The Yankees were away, on the West Coast, so their game wouldn't be on for another hour.
"Edgar," she said, gesturing at the fishbowl. "My fish. I thought he was dead, because he didn't eat his breakfast, and was just sort of floating there, but maybe he was only resting, because now he's moving again."
Penelope was staring down at the fish with an adoring look on her face, and Cole could have sworn that his heart squeezed.
So much damn affection for a fish.
Cole and Penelope were absolutely adorable together, creating a fun banter that had me giggling on every other page, begging for them to just figure it out already. Their friendship and work companionship was compelling and engaging, making the fact that they weren't together all the harder to bear. And I LOVED that they were both sports nuts…that's something you don't get to see that often. And, even more importantly, I loved his nickname for her-'Tiny'. I mean….come on. How cute. My husband always called me that, and it brought back so many warm and cherished memories. So…yeah. LOVED that.
Whether it was because he sensed the death glare from Cole or because of ingrained manners, Todd left Penelope's side to shake Cole's hand.
Cole might have shaken it harder than necessary. It was a clichéd move. Totally pathetic.
And absolutely unavoidable.
Cole did not like this man. He'd just now decided. Didn't like his reddish hair. Didn't like the preppy glasses. And his tie was the color of shit.
Penelope wouldn't really date a man wearing a shit tie.
Would she?
So…all in all, I would say this is a story that, again, suited my mood. I need light, fun, and flirty. I need angst, jealousy, and longing. Not once is there ever a lack of any of these things when reading a puppy novel. In fact…I'd say that's why she's my favorite. I know, without a doubt, that whenever I pick up a Lauren Layne book (whoops) that I will find all of these things paired with easy banter, light-hearted friendship, and meaningful relationships. And, to me, that's worth everything.
*Sorry if this was repetitive. Hubbs was watching a show that involved the killing of animals and I was in a humming frenzy trying to not 'hear' the dialogue about murdering innocent (okay, maybe not, I don't know, I was humming) animals. I refuse to name the type of animal-the wound is still too fresh.
**ARC provided by Netgalley in exchange for an honest review**
Related Posts