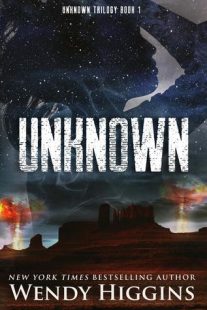 Unknown
(
Unknown #1
)
by
Wendy Higgins
Purchase on:
Amazon
, 
iBooks
Add to:
Goodreads
Synopsis:

Amber Tate believes the worst thing she'll suffer in life is dealing with the unrequited love she feels for her brother's best friend, Rylen Fite. She also believes war is something unfortunate that happens places far, far away from her rural Nevada town. She's wrong on both counts.

When an unknown organization meticulously bombs major cities in the United States and across the globe, a trickle-down effect spreads to remaining towns at an alarming speed—everything from food and water sources to technology and communications are compromised. Without leadership, the nation is split between paralysis and panic, but Amber isn't one to hide or watch helplessly. She's determined to put her nursing skills to use, despite the danger, even if it means working alongside the man she can never have.
Review:
Unknown was intense, gritty, emotional and a book I can't recommend enough. It's unlike any other dystopian that I've read because we actually got to witness the demise of the world. And I had no clue the depths my heart would ache watching this tale unfold. But there was hope in those final pages, and it was definitely a heart stopping journey to get there! I absolutely loved Unknown and I can't wait to start the next book!
When it rains, it pours. And floods. And washes away adolescent dreams.
Unknown started with us witnessing an organization planing to wipe the majority of world's population off the map. But in the next chapter we transitioned and met Amber Tate. And we spent the next 25% of the book growing up with her. She jumped back to when she was six years old and first met Rylen Fite, who was their neighbor, and became her older brother's best friend. And we watched them grow up together, with jumps of time that were seamlessly done. Their past wasn't always easy, and sadness, love, mortification, tender moments, heartache and joy filled the pages. I found myself with tears in my eyes, butterflies in my belly and I even curled into a ball at one moment. It was all so emotional. Besides Rylen and Amber, her brother Tate, her parents, grandparents and even her best friend Remy were integral parts to this story. I knew them all so well and I loved every single one of them.
I opened my eyes and looked into his solemn eyes. A painful crack split my heart. Why did I have to love him so much? Would it always hurt like this?
But one of the many things we discovered watching Amber grow up was how she fell for Rylen. Amber loved Rylen with her whole heart and soul. And it was heartbreaking that he saw her as not only a best friend, but as his little "sister". And if that wasn't hard enough, a huge wrench got thrown in between them when they were older. I felt betrayed and broken, just like Amber. I kept trying to figure out a way around it. But make no mistake, regardless of what happened, I absolutely loved Amber and Rylen. Nothing could sway me from being obsessed with the both of them. I got so caught up in their lives that before I knew it the whole world came crashing down around them. I was not prepared for the horror that unfolded.
My face fell against his shoulder and I bawled against his neck. "Oh, my God . . ." My hands tightened, fisting his shirt in my palms, holding him like a lifeline as my mind threatened to shatter into unfixable pieces.
He never said a word. Just ran.
You know the scariest part? It all felt so real. And I could easily see all of this death and destruction happening now. The rest of the book was watching in horror as the apocalypse unraveled. And each page I turned there was something else that happened that would give me goosebumps, or take my breath away, or make me pause because it was too terrifying. And just when I thought we got a break from it, I was taken to an entirely different level of pain. Especially towards the end. My heart broke for Amber. So be prepared for an action packed, heart breaking journey.
Because this was life. Laughter, love, friendships. We had a way of life to protect. We weren't perfect by any means, but we were good. And we sure as hell weren't giving it up without a fight.
Do you ever read a book and just want everyone you know to pick it up? Unknown is that book for me. So if you're a fan of dystopian, check this one out. Just keep in mind that the first 25% of the story you're growing up and becoming embedded into their family and lives. And if you're a fan of Wendy Higgins, Unknown is very gritty compared to her other books. And the romance, well there isn't any romance per se, but there was a lot of hope for it in the future. Maybe. Possibly. We'll see. So join me in my obsession with this series, I desperately need lots of people to talk to about this book!!
We weren't alone. As long as we had each other, there was hope.
PS My guess is that Bahntan is View Spoiler »Senator Navis! « Hide Spoiler
Reading Order & Links:


Amazon

(click on covers),

iBooks (click on titles) & Book Depository (click on book #)

Unknown #1
Reviews:
Jen

Unrest #2
Reviews:
Jen


Undone #3
Reviews:
Jen

Related Posts