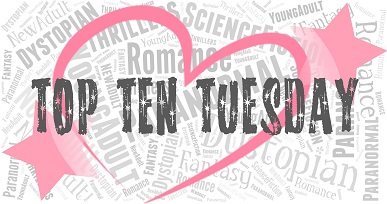 Top Ten Tuesday is a weekly meme hosted by That Artsy Reader Girl
This week is Books That Surprised Us, In A Good Way.  And they are……
| | |
| --- | --- |
| Arielle's Choice | Arielle's Choice |
1. The Hating Game by Sally Thorne
Amazon * Goodreads
This book is a prime example of why you SHOULD NOT judge a book by it's cover–and boy am I still kicking myself in the butt over it.  There is nothing cheesy or cartoon-y about these characters.  Lucy is a hilarious little spitfire and Josh is the epitome of big and broody with a secret heart of gold.  Let's just say that when I finished I IMMEDIATELY started re-reading.
2. A Court of Mist and Fury (A Court of Thorns and Roses #2) by Sarah J. Maas
Amazon * Goodreads
After not being impressed with book one, I picked this book up about a month after it came out….and have read it eight times since.  There is something about Feyre's journey through her PTSD and coming out on the other side an entirely changed and healed person that really got to me and probably will forever.  And come on, who could ever resist Rhys and the Night Court?! Certainly not me.
3. The Girl with the Red Balloon (The Balloonmakers #1) by Katherine Locke
Amazon * Goodreads
I requested an ARC of this purely on a whim.  I have always *liked* historical fiction but it has never been my go-to on any occasion.  Thank God I decided to read this though because I was swept up into this world of magic and East Berlin circa 1980s–something I had never known about previously.  The history and relationships and story line were pure. Freaking. Gold.

4. The Iron Daughter (The Iron Fey #2) by Julie Kagawa
Amazon * Goodreads
The first book of this series made me pause.  I loved the beginning and the end of it, but the middle?  With all of the creatures?  That was a little outside my comfort zone.  Yet I loved the characters, so I picked up this next book.  And my love for this series was cemented.  The characters, the writing, the emotions that made my heart soar and cry, it was all so breathtaking.  This became one of my favorite series ever!
5. The Vincent Boys: Extended and Uncut (The Vincent Boys, #1) by Abbi Glines
Amazon * Goodreads
Normally I loathe books about cheating.  It's all very black and white to me.  But a friend told me to have faith, so I picked this book up.  And I was shocked when I realized how much I wanted Ash and Beau to cheat. I wanted to see them together, because their friendship was beautiful and their chemistry was addicting.  And the other relationship?  You'll see what I mean…..so yes, this book was a complete surprise!
6. Full Tilt (Full Tilt, #1) by Emma Scott
Amazon * Goodreads
A book where one of the leads is most likely to die?  No.  I couldn't handle that.  Yet again, I put my trust in a friend and I started this book.  And I fell madly in love.  So I must advise you to step into this story at your own risk, because your heart will definitely be on the line and put through the wringer. But it's worth it. I swear. It's more than worth it.

7. About That Kiss (Heartbreaker Bay, #5) by Jill Shalvis
Amazon * Goodreads
I liked Jill Shalvis books, but none of them made me feel completely and utterly addicted to the story-line.  Until I read Joe and Kylie's story.  They captured my heart, the sexual tension between the two of them was scorching hot, and I could not put this book down!

8. An Enchantment of Ravens by Margaret Rogerson
Amazon * Goodreads
A book so out of my comfort zone I had no hope of even enjoying…it became an instant unforgettable favorite because of Rook and Isobel's amazing journey-together. 

Chelsea's Choice

 
Chelsea's Choice

9. The Wall of Winnipeg and Me by Mariana Zapata
Amazon * Goodreads
l literally, LITERALLY, picked this out at the last minute, thinking all the while that it wasn't that impressive. Until it was. Until it killed me with feels. Until I STILL CANNOT STOP REMEMBERING IT EVERY DAY. 
10. #Nerd (Hashtag #1) by Cambria Hebert
Amazon * Goodreads

What can I say??? This book was just supposed to be a fun little read-then Romeo BECAME MY LIFE, and soon became my number one [new] BBF of 2017. Simply unforgettable, to me. 
So these are our Books That Surprised Us, In A Good Way.  Did you feel the same way as us?  If not, then what books surprised you in a good way?
Related Posts