Why am I shocked it's another Friday?!  Well, it probably has something to do with the fact that another week has come and gone and we all haven't had a lot of time to read.  But it feels like that will be changing very soon!  Fingers crossed!
I swear I'm not always traveling, but this last week I flew to San Diego.  I stayed with a good friend from High School and we both went to the Guns N Roses concert this last Tuesday *jumps up and down while screaming!*.  They are my favorite band of all time!  I've been to a lot of concerts, but this one blew all of the others out of the water.  It was so fabulous that we even created some ridiculous hashtags like #SlashIsStillSexy #HowDidHisArmsNotRipThatShirt #AxlsVoiceStillSeducesMe and many more lol!  But in all seriousness, if you have a love for rock and roll or seeing 80's bands then I highly recommend their concert.  It was 3 hours of absolute perfection in my eyes and now I'm left wanting to travel all over the US and to watch them again and again.  See.  Totally obsessed lol!  I hope you all had a great week too! ♥
So, in case you aren't familiar with our Friday Star Posts, we like to take a look at what's happened around here in the last week, what's coming up that we are excited about and anything else that we may have to share!
♥ Enjoy!
Giveaways: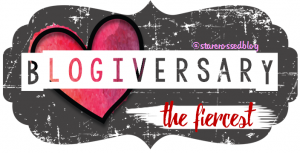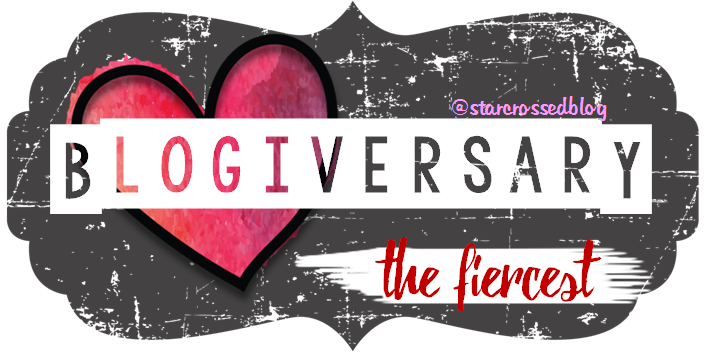 Enter to win a book with one of our Fiercest Book Boyfriends – Zeke from The Immortal Rules by Julie Kagawa (ebook). Enter →
HERE
.
✩✮✩✮✩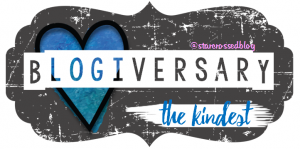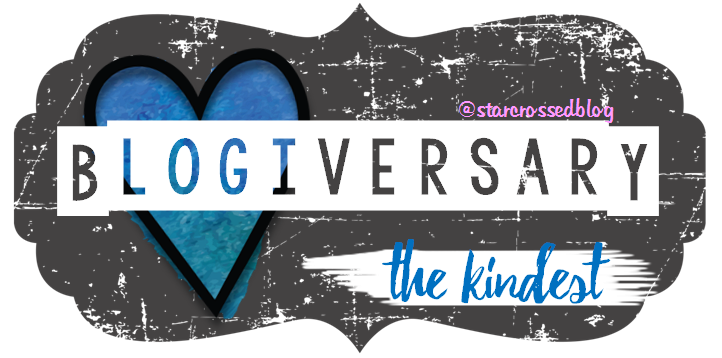 Enter to win a book with one of our Kindest Book Boyfriends – Xander from The Distance Between Us by Kasie West (ebook). Enter →
HERE
.
✩✮✩✮✩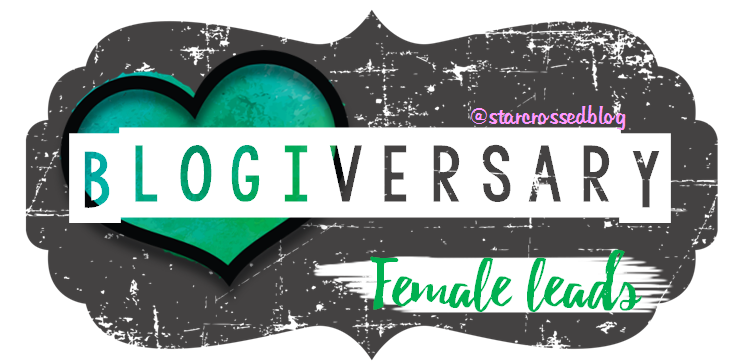 Enter 3 different giveaways! Two are featuring our favorite heroines – Meghan from The Iron King by Julie Kagawa (ebook) and Penryn from Angelfall by Susan Ee (ebook). Also enter to win hardback books of The Unearthly Trilogy by Cynthia Hand & The Strange and Beautiful Sorrows of Ava Lavender by Leslye Walton. Enter →
HERE
.
✩✮✩✮✩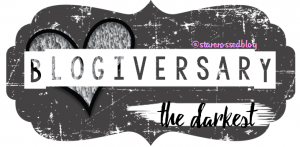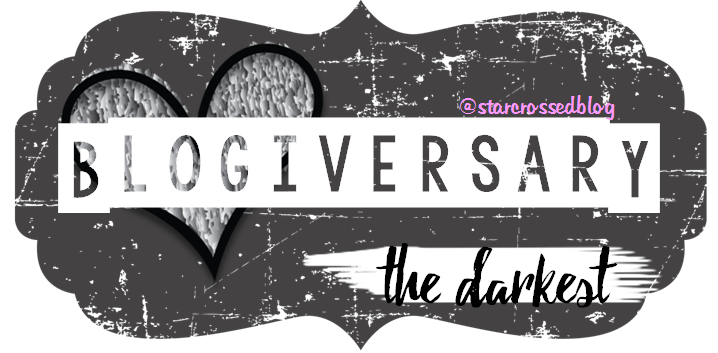 Enter to win The Artists Trilogy (Sins & Needles, Shooting Scars and Bold Tricks) by Karina Halle (ebook). Enter →
HERE
.
✩✮✩✮✩✮✩✮✩✮
Just Finished and Loved: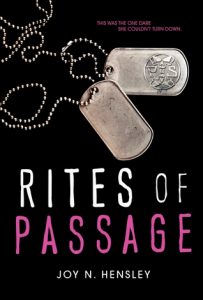 Rites of Passage by Joy N. Hensley → Anna's Review
4.5 Stars!  Rites of Passage left me on such a high, I'm jumping around at 5AM like a crazy person when I should have been tucked up in bed like the reasonable adult I'm supposed to be.
Sam McKenna's never turned down a dare. And she's not going to start with the last one her brother gave her before he died.  So Sam joins the first-ever class of girls at the prestigious Denmark Military Academy. She's expecting push-ups and long runs, rope climbing and mud-crawling. As a military brat, she can handle an obstacle course just as well as the boys. She's even expecting the hostility she gets from some of the cadets who don't think girls belong there. What she's not expecting is her fiery attraction to her drill sergeant. But dating is strictly forbidden and Sam won't risk her future, or the dare, on something so petty… no matter how much she wants him.  As Sam struggles to prove herself, she discovers that some of the boys don't just want her gone—they will stop at nothing to drive her out. When their petty threats turn to brutal hazing, bleeding into every corner of her life, she realizes they are not acting alone. A decades-old secret society is alive and active… and determined to force her out.  At any cost.  Now time's running short. Sam must decide who she can trust… and choosing the wrong person could have deadly consequences.
We also had a post about Our Darkest BBFs.  If you missed it, you can check it out here.
✩✮✩✮✩✮✩✮✩✮
Reading Next: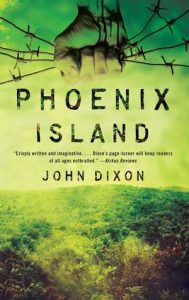 Phoenix Island (Phoenix Island #1) by John Dixon
The judge told Carl that one day he'd have to decide exactly what kind of person he would become. But on Phoenix Island, the choice will be made for him.  A champion boxer with a sharp hook and a short temper, sixteen-year-old Carl Freeman has been shuffled from foster home to foster home. He can't seem to stay out of trouble—using his fists to defend weaker classmates from bullies. His latest incident sends his opponent to the emergency room, and now the court is sending Carl to the worst place on earth: Phoenix Island.  Classified as a "terminal facility," it's the end of the line for delinquents who have no home, no family, and no future. Located somewhere far off the coast of the United States—and immune to its laws—the island is a grueling Spartan-style boot camp run by sadistic drill sergeants who show no mercy to their young, orphan trainees. Sentenced to stay until his eighteenth birthday, Carl plans to play by the rules, so he makes friends with his wisecracking bunkmate, Ross, and a mysterious gray-eyed girl named Octavia. But he makes enemies, too, and after a few rough scrapes, he earns himself the nickname "Hollywood" as well as a string of punishments, including a brutal night in the "sweatbox." But that's nothing compared to what awaits him in the "Chop Shop"—a secret government lab where Carl is given something he never dreamed of.  A new life…A new body. A new brain. Gifts from the fatherly Old Man, who wants to transform Carl into something he's not sure he wants to become. For this is no ordinary government project. Phoenix Island is ground zero for the future of combat intelligence.  And for Carl, it's just the beginning…
 ✩✮✩✮✩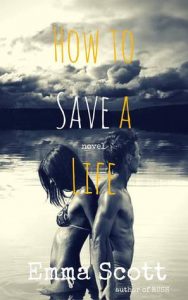 How to Save a Life by Emma Scott
Josephine Clark is trapped. A harrowing past haunts her every time she looks in the mirror, and she can't escape the violence of her everyday life. More and more, her thoughts turn to Evan Salinger, the boy she knew in high school. The boy they called a mental case. A loner. A freak. The boy who seemed to know things no one could know. For a few short weeks, Jo had found perfect solace in Evan's company, sneaking every night to meet him at the local pool. In the cool of the water and the warmth of Evan's arms around her, Jo had tasted something close to happiness.  Cruel circumstances tore them apart, and four years later, the sweet memory of their time together is dissolving under the punishing reality of Jo's life now. Evan seems like a fading dream…until he reappears at the moment she needs him most. Guided by Evan's strange intuition, they flee her small Louisiana town, on the run from the police, and Jo begins to suspect there is something more to his sudden return than he admits.  Over twelve days across America's heartland, deep secrets come to light, buried pasts are unearthed, and the line between dreams and reality is blurred as Evan and Jo fight to hold on to their soul-deep love, and discover that there is more than one way to save a life.
✩✮✩✮✩✮✩✮✩✮
Upcoming Releases: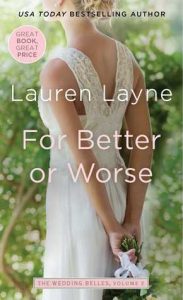 For Better or Worse (The Wedding Belles #2) by Lauren Layne (Releases 8/30)
Will a budding wedding planner and her bad boy neighbor stop banging heads and start hearing wedding bells in the sexy second novel in USA TODAY bestselling author Lauren Layne's irresistible new series that marries Sex and the City with The Wedding Planner?  When small-town girl Heather Fowler finally gets promoted from assistant to actual wedding planner, she's determined to make it as one of Manhattan's elite Wedding Belles. Unfortunately, her first client demands an opulent black-tie affair at the Plaza…in five months' time. Heather's days quickly become a flurry of cake tastings, dress-fittings, RSVP cards, and bridal tantrums. But what she's really losing sleep over is the live music blaring from her playboy neighbor's apartment all night.  Five years ago, Josh Tanner was an up-and-comer on Wall Street, complete with the penthouse and the migraines. But a grim cancer diagnosis made him realize there is more to life than the corner office. If only he could convince his pretty, workaholic neighbor to let loose, too. As Heather lets down her guard, Josh is surprised when he starts falling for the sweet, vulnerable woman hiding beneath those power suits. Soon, it's Heather's turn to convince Josh to take the biggest risk of all: love.
✩✮✩✮✩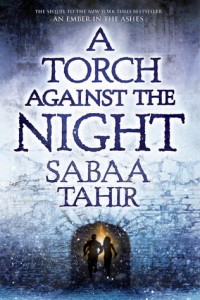 A Torch Against the Night (An Ember in the Ashes #2) by Sabaa Tahir (Releases 8/30)
The story continues!  In the first book, An Ember in the Ashes, Laia is a slave. Elias is a soldier. Neither is free.   Under the Martial Empire, defiance is met with death. Those who do not vow their blood and bodies to the Emperor risk the execution of their loved ones and the destruction of all they hold dear.   It is in this brutal world, inspired by ancient Rome, that Laia lives with her grandparents and older brother. The family ekes out an existence in the Empire's impoverished backstreets. They do not challenge the Empire. They've seen what happens to those who do.   But when Laia's brother is arrested for treason, Laia is forced to make a decision. In exchange for help from rebels who promise to rescue her brother, she will risk her life to spy for them from within the Empire's greatest military academy.   There, Laia meets Elias, the school's finest soldier—and secretly, its most unwilling. Elias wants only to be free of the tyranny he's being trained to enforce. He and Laia will soon realize that their destinies are intertwined—and that their choices will change the fate of the Empire itself.
✩✮✩✮✩
Check out the rest of our list of upcoming releases that we can't wait for → HERE
✩✮✩✮✩✮✩✮✩✮
Sales:
$0.99
$1.99
$2.99
$3.03+
Freebies
Save
Save
Save
Save
Save
Save
Save
Save
Related Posts