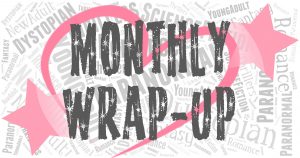 During our Monthly Wrap-Up, we'll take a look at what has happened around here in the last month. That'll include what's happened in my life, what Chelsea and I have read, any other posts we may have had, giveaways still going on and books that I've added to my ever-growing TBR.  And from this month on, I'll also be including Reading Challenges that I've joined.
♥ Enjoy!
Jen's Life:
Some of my highlights from December were –
✮ The first weekend of December we went on the Polar Express.  My kids are obsessed with the book and the movie, so I'm beyond grateful that we live near one of the few places in the US that has a true Polar Express.  My 4&6 year old dressed up in their pjs and we got to board a train that took us to the "North Pole".  Along the way they act out the book, read it to us, sing the songs and we get to sip hot chocolate and eat delicious cookies.  When we get to the North Pole, Santa joins us on the train and visits with every little boy and girl.  It's so much fun and I love that my kids believe it's truly magical!  I can't wait to do it all over again next year!
✮I hosted both Christmas Eve and Christmas Day at our house.  It was a very different Christmas, since it was 60 degrees here.  I live by Lake Tahoe, so it should be snowing or at least cold.  But instead we were outside playing baseball and Nerf Lazer Tag (such a fun toy!!).  This year was definitely a first with us not being bundled up or sledding before our Christmas Dinner, but we ended up having such a fabulous time!
✮I have to share that Chelsea, my co-blogger, got me the most fabulous non-bookish Christmas present ever.  It's a t-shirt with my life motto on it.  I couldn't stop laughing when I opened the box and I'm contemplating wearing it 24/7 because it's just oh so perfect!  If you want to see a picture of me in my new shirt it's here.  And in case you aren't familiar with that quote it's from Legally Blonde lol!
✮I made these Mint Chocolate Chip Cheesecake Brownies.  They were so easy to make and soooooo yummy!
✮✩✮✩✮✩✮✩✮
What Chelsea & Jen Read:
5 Stars:
✮ Unknown (Unknown #1) by Wendy Higgins
✮ Unrest (Unknown #2) by Wendy Higgins
✮ An Enchantment of Ravens by Margaret Rogerson
✮ Amour Amour (Aerial Ethereal #1) by Krista Ritchie & Becca Ritchie
✮ Resisting the Rebel by Lisa Brown Roberts
4.5 Stars:
✮ #Nerd (Hashtag #1) by Cambria Hebert
✮ Undone (Unknown #3) by Wendy Higgins
4 Stars:
✮ Concealed (Beholder #2) by Christina Bauer
✮ Cherished (Beholder #3) by Christina Bauer
✮ Crowned (Beholder #4) by Christina Bauer
3 Stars:
✮ Rival (Fall Away #2) by Penelope Douglas
✩✮✩✮✩✮✩✮✩✮
Our Favorite Books of the Month: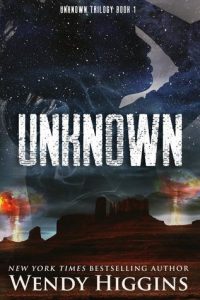 Unknown (Unknown #1) by Wendy Higgins (Jen's Choice)
Intense, gritty, emotional and a book I can't recommend enough.  It's unlike any other dystopian that I've read because we actually got to witness the demise of the world.  And I had no clue the depths my heart would ache watching this tale unfold.
✩✮✩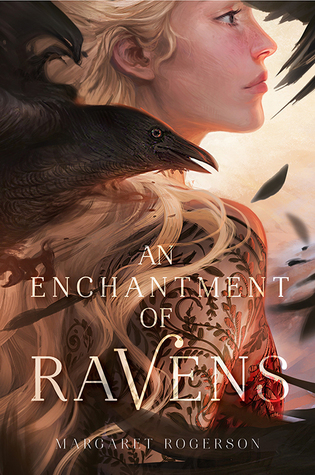 An Enchantment of Ravens by Margaret Rogerson (Chelsea's Choice)
This book, to me, was absolute perfection. A breath slowly releasing with each page that passed, calming me in a way not many books do anymore. It calmed my soul because, with every new moment, I felt like I was coming home. I don't get to read fantasy often, so when I finally get to read one and it touches me in the way this novel did, it makes my heart sing.
Other Posts:
✮ Our Most Anticipated Releases For December
✮ TRAILER & GIVEAWAY – Brave (A Wicked Trilogy #3) by Jennifer L. Armentrout
✮ COVER REVEAL – Superhero High by TH hernandez
✮ TOP TEN TUESDAY – Books We Hope Santa Brings Us
✮ Bookish Naughty or Nice Tag
✮ TOP TEN TUESDAY – Books We're Looking Forward to In 2018
✩✮✩✮✩✮✩✮✩✮
Books Added To Jen's TBR:
This month was better, but I still added more books than I read this month.  Whoops.
✩✮✩✮✩✮✩✮✩✮
Reading Challenges:
This is the first year I've EVER joined a Reading Challenge.  I went through Nicole's huge list of reading challenges – check it out here – and found three that sounded absolutely perfect for me.   I'd love to have friends join in a challenge with me, so if you sign up please let me know.   🙂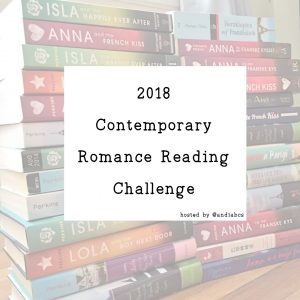 Contemporary Romance Reading Challenge – I love reading contemporary romance books, so I'm aiming for 3rd base, which means I plan on reading 11-15 contemporary books next year.  Although I have a feeling I can hit Home Run which is 16-20 contemporary books.
[scroll-box]Reading Challenge Details:
Runs January 1, 2018 – December 31, 2018 (books read prior to 1/1/2018 do not count towards the challenge). You can join anytime you want, though the sign up linky will close Nov. 15, 2018.
The goal is to read as many Contemporary Romance books as you'd like. See the different levels below and pick the one that works best for you. You can move up a level as often as you'd like but no moving down. Remember, the idea is to challenge yourself.
Books that qualify for this challenge can be young adult, new adult, or adult. Books can be M/F, M/M, or F/F. Books must be a work of fiction (sorry, nonfiction does not qualify for this challenge).
Romances with the following elements do not qualify for this reading challenge: paranormal, historical, time-travel, fantasy, science fiction, or mystery/suspense/thriller.
Books can be any format (print, ebook, audio).
Novellas that are 100 pages in length (give or take), as well as full-length novels, will count for this reading challenge.
Re-reads and crossovers from other reading challenges are allowed.
Use the hashtag #ContRom2018 when posting your reviews/updates/re-caps/monthly topics on social media.
To join this challenge, grab the 2018 Contemporary Romance Reading Challenge button below and post this reading challenge on your blog to track your progress. Please include a link back to this sign-up post so others can join the reading challenge too. This will be your "update post" when doing the monthly link up.
You do not have to be a book blogger to participate; you can track your progress on Goodreads, LibraryThing, BookLikes, etc., so as long as you have a dedicated shelf for the 2018 Contemporary Romance Reading Challenge (your designated "update post" for the monthly link up) and your profile is not private. The point of linking up is to have a place where people can see what you're reading.
Levels:
1st Base: read 1 – 5 books
2nd Base: read 6 – 10 books
3rd Base: read 11 – 15 books
Home Run: read 16 – 20 books
Grand Slam: read 21+ books
Monthly Link-Up and Giveaway Details:
Your thoughts on each book you read must be posted somewhere, like your blog, Goodreads, Amazon, YouTube, Tumblr, etc., in order for it to count towards this challenge. Ratings on Goodreads, LibraryThing, BookLikes, etc. will also work.
Monthly link-up posts will go live the around the first day of each month so you can add your links throughout the month as your posts go up. Each linky will remain open five days into each new month to allow you some time to get all your posts linked up!
In order for us to tell what you're linking to on the monthly linky, the format for the links you enter need to be as follows:
UPDATE POST @ your name/blog name.
REVIEW: [BOOK TITLE] @ your name/blog name.
MONTHLY TOPIC @ your name/blog name.
Each month we'll choose a lucky winner from that month's linky to win a Contemporary Romance novel of their choice (up to US$10).
Each link you enter in that month's linky will count as one entry into the giveaway.
Challenge and Giveaways are open internationally. (As long as The Book Depository ships to your country, you are eligible for a prize.)
Monthly Topics:
Each monthly link-up post will include a Contemporary Romance topic for you to participate in if you'd like.
Monthly Topic posts can go up anytime in the specified month. Link them up as follows: MONTHLY TOPIC @ your name/blog name.
These posts will also earn you an entry in the monthly giveaway as long as you link back to them.
[/scroll-box]
✩✮✩

Beat The Backlist – This one sounds like so much fun and as of yesterday there was almost 400 bloggers signed up!  It's all about reading books that were previously published.  So anything that was published 2017, or before that, counts.  And I own sooooooo many books that qualify for this!  
[scroll-box]Reading Challenge Details:
In short, this is a reading challenge where your goal is to read backlist books (published prior to the current year). For 2018, it means reading any book that was published in 2017 or earlier. You have the entire year to read as many books as you can/want. YOU set your own reading goal and this challenge isn't just for bloggers. You do NOT need to have a blog to participate. Any online social media account (Goodreads, Twitter, Instagram, etc.) will work, and if you have a blog you're welcome to join in too!
Now to add a bit of a competitive edge, when you sign up for the challenge you'll be randomly placed on a team. These teams will compete to see who can get the most points, and each month one winner will be drawn from the team with the most points to get a book of their choice (open internationally). You get points by reading books! And you can earn extra by posting a review to retail websites (Amazon, Barnes & Noble, etc).
Each team will have their own Rafflecopter that you can submit your points through so it's super easy, and you'll be able to see which team is in the lead too. You don't have to submit anything if you don't want to, but it will help your team and better YOUR chances of winning a book of your choice so you may find it's worth it![/scroll-box]
✩✮✩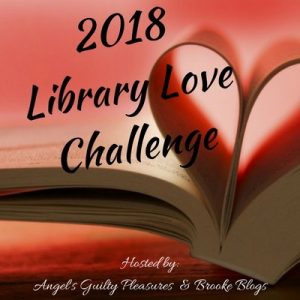 Library Love Challenge – My little boys and I go to our local library at the least once every other week.  Plus, I love that they have a fabulous on-line borrowing selection via Overdrive.  So I'm signing up for for Dewey Decimal: Read 12 books.  I know that I can definitely borrow at least a book a month from them!
[scroll-box]Details:
Runs: January 1, 2018 – December 31, 2018. You can join any time.
Put a sign up post on your blog or (dedicate a Goodreads shelf or LibraryThing) and link it below. Make sure it's public.
The goal is to read at least twelve (12) books from the library, but you can read more. While twelve is the minimum, there is no maximum limit. See the different levels below and pick the one that works best for you.
Any format will work for this challenge (prints, ebooks, or audios); as long as you checked it out from the library, it counts.
Books can be any genre (fiction, nonfiction, romance, fantasy, mystery, thriller, horror, etc.).
Crossovers from other reading challenges are allowed, including re-reads. The goal is to support your local library and save money.
Write a review to enter the giveaway – 2 sentences or an essay, whatever works for you, but there is a minimum of 2 sentences. Not sure what to write? How about something like, "The plot was a delight, but the characters didn't capture me." "I enjoyed the story and really liked the characters."
As an added bonus: We are offering up a GIVEAWAY with this Challenge. Winner will be picked at the end of the year!! The entries are the direct links to your book reviews and you will have until Jan. 3rd, 2019 to enter your reviews in the linky and then the Rafflecopter. Go here to enter the giveaway: 2018 Library Love Challenge Review Link-ups.
Levels:
Dewey Decimal: Read 12 books
Thrifty Reader: Read 24 books
Overdrive Junkie: Read 36 books
Library Addict: Read 48 books
Library Card on Fire: Read 60+ books
[/scroll-box]
✩✮✩✮✩✮✩✮✩✮
So that was our December.  Did you read any of the same books that we did? Or share the same favorite book as us? If not, then what was your favorite book? Or have you read any of the books I just added to my TBR?  Or do you want to join one of the reading challenges with me?   Pleeeeaaaassseeee lol. ♥
Here's hoping you all had a wonderful December too.  And cheers to having a fabulous New Years and here's hoping 2018 is our best year yet!
**We linked this post to 2017 End of Year Wrap-Up Round-Up Link-Up at Feed Your Fiction Addiction**
Related Posts