On Fridays, we take a look at what has happened around here in the last week, what's coming up that we are excited about and anything else that we may have to share!
♥ Enjoy!
Giveaways: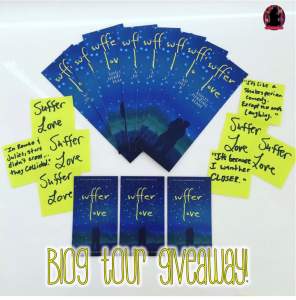 Two more days to enter to win a SUFFER LOVE by Ashley Herring Blake swag pack (INT). Click → HERE.
✩✮✩✮✩✮✩✮✩✮
Just Finished and Loved:
Carry On by Rainbow Rowell → Laura's Review
4.5 Stars!  Do you know that feeling when you read something especially adorable and you get this tingly feeling in your stomach? It used to happen to me much more, but I think the more I read, the rarer this phenomenon becomes. But Rainbow managed to make me feel like that again. I felt like a little girl on Christmas Eve.
Sam Bennett falls for Hadley St. Clair before he knows her last name. When Sam finds out she is that St. Clair, daughter of the man who destroyed Sam's family, he has a choice: follow his heart or tell the truth about the scandal that links their families. Funny and passionate, Suffer Love is a story about first love, family dysfunction, and the fickle hand of fate.
✩✮✩✮✩
4 Stars:

The Forbidden Wish by Jessica Khoury →
Jen's Review
1 Stars:

Warrior Witch (The Malediction Trilogy #3) by Danielle L. Jensen →
Jen's Review
We also had a Top Ten Tuesday Post about Characters We'd Love To Have A Peek Into Their Future.  If you missed it, then you can check it out here.
✩✮✩✮✩✮✩✮✩✮
Reading Next:
Good Girl (Love Unexpectedly, #2) by Lauren Layne – Jenny Dawson moved to Nashville to write music, not get famous. But when her latest record goes double platinum, Jenny's suddenly one of the town's biggest stars—and the center of a tabloid scandal connecting her with a pop star she's barely even met. With paparazzi tracking her every move, Jenny flees to a remote mansion in Louisiana to write her next album. The only hiccup is the unexpected presence of a brooding young caretaker named Noah, whose foul mouth and snap judgments lead to constant bickering—and serious heat.   Noah really should tell Jenny that he's Preston Noah Maxwell Walcott, the owner of the estate where the feisty country singer has made her spoiled self at home. But the charade gives Noah a much-needed break from his own troubles, and before long, their verbal sparring is indistinguishable from foreplay. But as sizzling nights give way to quiet pillow talk, Noah begins to realize that Jenny's almost as complicated as he is. To fit into each other's lives, they'll need the courage to face their problems together—before the outside world catches up to them.
✩✮✩✮✩
A Gathering of Shadows (Shades of Magic #2) by V.E. Schwab – The story continues! In the first book, A Darker Shade of Magic, Kell is one of the last Travelers—magicians with a rare, coveted ability to travel between parallel universes—as such, he can choose where he lands.  There's Grey London, dirty and boring, without any magic, ruled by a mad King George. Then there's Red London, where life and magic are revered, and the Maresh Dynasty presides over a flourishing empire. White London, ruled by whoever has murdered their way to the throne—a place where people fight to control magic, and the magic fights back, draining the city to its very bones. And once upon a time, there was Black London…but no one speaks of that now.Officially, Kell is the Red Traveler, personal ambassador and adopted Prince of Red London, carrying the monthly correspondences between the royals of each London. Unofficially, Kell is a smuggler, servicing people willing to pay for even the smallest glimpses of a world they'll never see—a dangerous hobby, and one that has set him up for accidental treason. Fleeing into Grey London, Kell runs afoul of Delilah Bard, a cut-purse with lofty aspirations, first robs him, then saves him from a dangerous enemy, and then forces him to spirit her to another world for a proper adventure.  But perilous magic is afoot, and treachery lurks at every turn. To save all of the worlds, Kell and Lila will first need to stay alive—and that is proving trickier than they hoped.
✩✮✩✮✩
A Court of Mist and Fury (A Court of Thorns and Roses #2) by Sarah J. Maas – The story continues! In the first book, A Court of Thorns and Roses, When nineteen-year-old huntress Feyre kills a wolf in the woods, a beast-like creature arrives to demand retribution for it. Dragged to a treacherous magical land she only knows about from legends, Feyre discovers that her captor is not an animal, but Tamlin–one of the lethal, immortal faeries who once ruled their world.  As she dwells on his estate, her feelings for Tamlin transform from icy hostility into a fiery passion that burns through every lie and warning she's been told about the beautiful, dangerous world of the Fae. But an ancient, wicked shadow over the faerie lands is growing, and Feyre must find a way to stop it . . . or doom Tamlin–and his world–forever.
✩✮✩✮✩✮✩✮✩✮
Upcoming Releases:
There aren't any books releasing in the next week that we are dying to read.  But we do have a huge list of books that we are counting down until they are released.  You can check them out here –HERE
✩✮✩✮✩✮✩✮✩✮
Sales:
$0.99
$1.99
$2.99
$3.49+
Freebies:
Related Posts