On Fridays, we take a look at what has happened around here in the last week, what's coming up that we are excited about and anything else that we may have to share!
♥ Enjoy!
Giveaway:

Two Winners will receive a print ARC of TO HAVE AND TO HOLD (The Wedding Belles, Book One) for the release of Lauren Layne's From This Day Forward.  Enter → HERE
 ✩✮✩✮✩✮✩✮✩✮
Just Finished and Loved:
All the Light We Cannot See by Anthony Doerr → Anna's Review
5 Stars! Enraptured by the beautiful – formidable – imagery, I was torn open by the ceaseless tension all the same.
Marie-Laure lives with her father in Paris near the Museum of Natural History, where he works as the master of its thousands of locks. When she is six, Marie-Laure goes blind and her father builds a perfect miniature of their neighborhood so she can memorize it by touch and navigate her way home. When she is twelve, the Nazis occupy Paris and father and daughter flee to the walled citadel of Saint-Malo, where Marie-Laure's reclusive great-uncle lives in a tall house by the sea. With them they carry what might be the museum's most valuable and dangerous jewel.  In a mining town in Germany, the orphan Werner grows up with his younger sister, enchanted by a crude radio they find. Werner becomes an expert at building and fixing these crucial new instruments, a talent that wins him a place at a brutal academy for Hitler Youth, then a special assignment to track the resistance. More and more aware of the human cost of his intelligence, Werner travels through the heart of the war and, finally, into Saint-Malo, where his story and Marie-Laure's converge.
✩✮✩✮✩
4.5 Stars:
Priceless (Forbidden Men #8) by Linda Kage → Chelsea's Review
4 Stars:
From This Day Forward (The Wedding Belles #0.5) by Lauren Layne→ Jen's Review
Deadpool : Secret Invasion (Deadpool Vol. II #1) by Daniel Way, Paco Medina → Anna's Review
2 Stars:
A Book of Spirit and Thieves (Spirits and Thieves #1) by Morgan Rhodes → Anna's Review
1.5 Stars:
The Cresswell Plot by Eliza Wass → Anna's Review
✩✮✩✮✩
We also had a Top Ten Tuesday Post about Books We Love That Are Beach Worthy Reads. If you missed it, then you can check it out here.
✩✮✩✮✩✮✩✮✩✮
Reading Next: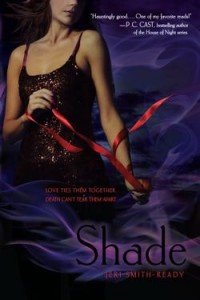 Shade (Shade #1) by Jeri Smith-Ready (
Aura can see ghosts. Born after the Shift, a little-understood event that enabled younger generations to communicate with the dead, Aura is relentlessly pursued by these violet-hued spirits. They need help to pass out of this world and into the next. And some are so angry they are on the verge of becoming Shades, dark vortexes of energy. But Aura just wants the ghosts to leave her alone so she can spend time with her boyfriend, Logan.  When Aura is paired with a new foreign-exchange student to research the Shift for a class project, she is determined to ignore her partner's sexy Scottish accent and discover the cause of the Shift so she can reverse it.  Then Logan dies a most untimely death. Forced to reconsider her relationship with the living and the dead, Aura is caught in a love triangle with her violet-hued boyfriend and her hot research partner… one of whom may hold the key to reversing the Shift.
✩✮✩✮✩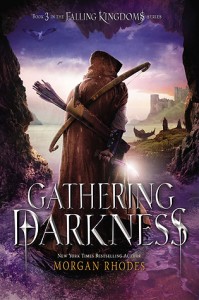 Gathering Darkness (Falling Kingdoms #3) by Morgan Rhodes & Michelle Rowen
In the first book, Falling Kingdoms , Princess Cleo of Mytica confronts violence for the first time in her life when a shocking murder sets her kingdom on a path to collapse. Once a privileged royal, Cleo must now summon the strength to survive in this new world and fight for her rightful place as Queen.   The King of Limeros's son, Magnus, must plan each footstep with shrewd, sharp guile if he is to earn his powerful father's trust, while his sister, Lucia, discovers a terrifying secret about her heritage that will change everything.   Rebellious Jonas lashes out against the forces of oppression that have kept his country cruelly impoverished—and finds himself the leader of a people's revolution centuries in the making.  
Witches, if found, are put to death, and Watchers, immortal beings who take the shape of hawks to visit the human world, have been almost entirely forgotten. A vicious power struggle quickly escalates to war, and these four young people collide against each other and the rise of elementia, the magic that can topple kingdoms and crown a ruler in the same day.
✩✮✩✮✩✮✩✮✩✮
Upcoming Releases:
There aren't any books releasing in the next week that we are dying to read.  But we do have a huge list of books that we are counting down until they are released.  You can check them out here → HERE
✩✮✩✮✩✮✩✮✩✮
Sales:
$0.99
$1.99
$2.99
$3.49+
Freebies:
Related Posts