Life:
Last Friday afternoon, I learned even more about what was happening at my son's private school.  So my husband and I pulled him out of his Kindergarten class.  In the middle of the year.  What was once a hard decision, became a hell of a lot easier once we learned even more facts that twisted my stomach and is still making me cry to this day.  My heart breaks for those children that were hurt by others their own age, and at the same time I can't be thankful enough that nothing happened to my little boy.  Okay…….. *wipes tears from eyes and takes deep breath*.  So, he had his first day at public school this last Tuesday.  Oh my gosh, I was SO nervous for him.  I didn't even sleep the night before, and the whole day he was at school I was a bundle of nerves.  And when I picked him up, he was so happy.  It's only been a few days, but each day he tells me all about what happened and the new friends he's making.  I couldn't be more thankful and grateful that this has worked out better than I ever could have imagined.  While there is a slight hiccup, he's exhausted because of the longer school days, I'm hoping that will get easier in the coming weeks.  His safety and his happiness are my top priorities, and I'm so thankful that we have found both of these at his new school!
In case you aren't familiar with our Friday Star Posts, we like to take a look at what's happened around here in the last week, what's coming up that we are excited about and anything else that we may have to share!
♥ Enjoy!
✩✮✩✮✩✮✩✮✩✮
There weren't any books, that we read in the last week, where we loved every single tiny detail. But here's one that I truly enjoyed:
4 Stars:
The Vincent Boys: Extended and Uncut (The Vincent Boys #1) by Abbi Glines → Jen's Review
PS – Chelsea loved A Conjuring of Light (Shades of Magic #3) by V.E. Schwab, but her baby girl has been a little rough on her lately.  She's hoping to write a full review!  And just a heads up – less than 30 days till their baby girl should arrive, YAY! 🙂
✩✮✩✮✩✮✩✮✩✮
Reading Next: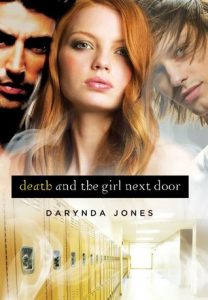 Death and the Girl Next Door (Darklight #1) by Darynda Jones
Ten years ago, Lorelei's parents disappeared without a trace. Raised by her grandparents and leaning on the support of her best friends, Lorelei is finally beginning to accept the fact that her parents are never coming home. For Lorelei, life goes on.
High school is not quite as painful as she thinks it will be, and things are as normal as they can be. Until the day the school's designated loner, Cameron Lusk, begins to stalk her, turning up where she least expects it, standing outside her house in the dark, night after night. Things get even more complicated when a new guy—terrifying, tough, sexy Jared Kovach—comes to school. Cameron and Jared instantly despise each other and Lorelei seems to be the reason for their animosity. What does Jared know about her parents? Why does Cameron tell Jared he can't have Lorelei? And what will any of them do when Death comes knocking for real?
✩✮✩✮✩✮✩✮✩✮

Upcoming Releases:
There aren't any books releasing in the next week that we are dying to read.  But we do have a huge list of books that we are counting down until they are released.  You can check them out here → HERE
✩✮✩✮✩✮✩✮✩✮
Sales:
$0.99
$1.99
$2.99
$3.49+
Freebies:
Save
Save
Save
Save
Save
Save
Save
Save
Save
Save
Related Posts