Life:
Yesterday was my oldest son's birthday, and he turned 6.  He wanted to go bowling, so we headed off to our local bowling alley with the 4 of us, my mom, dad, Grandma and my best friend and her 21 month old son.  Watching him throw the ball, I have no clue how he did as well as he did lol.  It was a spectacle and so hysterical.  But the best part was that it didn't matter if him or his brother knocked down 1 pin or 6 pins, each time they bowled they would jump around while clapping.  It was so adorable!  We then finished off the evening by coming back to our house and having pizza, cake (he wanted chocolate cake, chocolate filling and chocolate frosting – oh my gosh the cake was so rich but yummy!) and presents.  I'm so sad he's growing up so fast *cries*, but I'm so happy for the cheerful, friendly, lovable little man he is growing into.  Here's hoping you all had a fabulous week too.
In case you aren't familiar with our Friday Star Posts, we like to take a look at what's happened around here in the last week, what's coming up that we are excited about and anything else that we may have to share!
♥ Enjoy!
✩✮✩✮✩✮✩✮✩✮
Just Finished and Loved:
Unfortunately there weren't any books that we loved, but I did find a book that I enjoyed!
3.5 Stars:
Island of Exiles (The Ryogan Chronicles #1) by Erica Cameron → Jen's Review
✩✮✩✮✩
We also had a Top Ten Tuesday Post about Debut Authors Whose Books We Can't Wait To Read In 2017. If you missed it, then you can check it out here.
✩✮✩✮✩✮✩✮✩✮
Reading Next: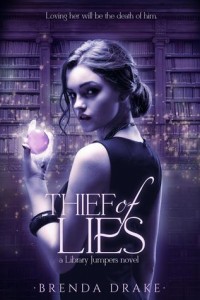 Thief of Lies (Library Jumpers #1) by Brenda Drake
*Currently re-reading and this time around I'm connecting with the characters and loving.  I'll be re-writing my review*
Gia Kearns would rather fight with boys than kiss them. That is, until Arik, a leather clad hottie in the Boston Athenaeum, suddenly disappears. While examining the book of world libraries he abandoned, Gia unwittingly speaks the key that sucks her and her friends into a photograph and transports them into a Parislibrary, where Arik and his Sentinels-magical knights charged with protecting humans from the creatures traveling across the gateway books-rescue them from a demonic hound.
Jumping into some of the world's most beautiful libraries would be a dream come true for Gia, if she weren't busy resisting her heart or dodging an exiled wizard seeking revenge on both the Mystik and human worlds. Add a French flirt obsessed with Arik and a fling with a young wizard, and Gia must choose between her heart and her head, between Arik's world and her own, before both are destroyed.
✩✮✩✮✩✮✩✮✩✮

Upcoming Releases:
There aren't any books releasing in the next week that we are dying to read.  But we do have a huge list of books that we are counting down until they are released.  You can check them out here → HERE
✩✮✩✮✩✮✩✮✩✮
Sales:
$0.99
$1.99
$2.99
$3.99+
Freebies:
Save
Save
Save
Save
Save
Save
Save
Save
Save
Save
Save
Save
Save
Related Posts